Celemony announces the update to Version 1.5 of the audio editing software Melodyne uno. The new version offers considerably easier operation thanks to extended combi tools, a clearer menu structure, and numerous improvements in the ReWire implementation when scrubbing and saving. Melodyne uno 1.5 is also the first product from Celemony to support Apples new Intel Core Duo chip.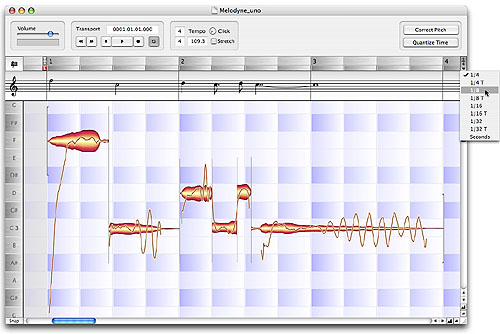 The one-track version of the unique audio software Melodyne operates in a similar fashion to a sample editor – only with the typical Melodyne functions – and is therefore the ideal tool for correcting intonation, editing melodies and vocal production. Like the larger versions of Melodyne, uno 1.5 now offers efficient combi tools for all Editor parameters. This makes the program considerably simpler to operate, as does the new, clearer menu structure, whereby commands from the old action menus have been transferred to the Edit menu to streamline the workflow. Scrubbing of the audio file can now be done directly in the Bar ruler and scrubbing is now also available to provide aural feedback if desired when altering the pitch in the Editor – in each case also in ReWire mode.
Furthermore, the new update includes many improvements of detail and numerous features requested by customers. In addition, all known bugs have been fixed and the ReWire implementation further stabilized.
The update to Melodyne uno 1.5 is free of charge for all registered uno customers. The full version of Melodyne uno for Windows XP and Mac OS X costs 169 euros ($US199).