Sony Media Software announced today the availability of ACID Pro 6 software. A significant upgrade to the award-winning, professional music creation and production application, ACID Pro 6 software includes new multitrack recording and MIDI capabilities, transforming the software into a full-featured professional digital music workstation.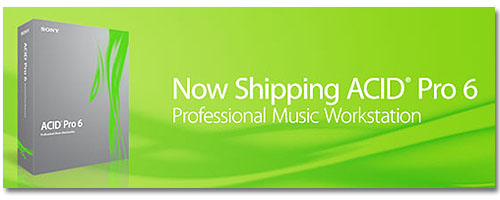 ACID Pro 6 software provides professionals with new ways to record, produce, mix and arrange audio and music compositions, far beyond the capabilities found in prior versions. The upgraded multitrack recording and MIDI sequencing platform allows users to create music using a fast, efficient and easy-to-master method that produces impeccable results.
In addition to its significantly expanded feature set and new high-performance multi-threaded audio engine, ACID Pro 6 software also reflects enhancements in Sony's ongoing relationship with Native Instruments, creator of state-of-the-art soft synths and samplers. ACID Pro 6 software includes Native Instruments™ KOMPAKT Sony ACID Pro Edition, a configurable sample playback engine that includes a custom sound library assembled by Native Instruments specifically for ACID Pro 6 users.
Additional new ACID Pro 6 features include:
* On-the-fly punch-in recording
* Envelope automation recording
* Track record meters
* MIDI track envelopes for controllers
* MIDI keyframes for patch changes and sysex messages
* MIDI Quantize and Velocity filters
* MIDI file import and export
* Freehand envelope drawing on the timeline
* Gracenote® MusicID CD album identification
* Dual/Multi-core processor support
* ATRAC3™, ATRAC3plus™, and ATRAC Advanced Lossless™ format support
* Film-style panning mode for 5.1 surround projects
KOMPAKT Sony ACID Pro Edition –
ACID Pro 6 software includes a custom edition of Native Instruments KOMPAKT. This full-featured VSTi sample playback engine comes bundled with over 120 instruments—all the basics, plus many fresh and versatile instruments that showcase the vast sound design capabilities of Native Instruments finest tools. You can also use this custom edition to create and save your own instruments, and load instruments in several popular and legacy formats.