Propellerhead Software presents RDK VINTAGE MONO – the Monaural Drums Freebie Download.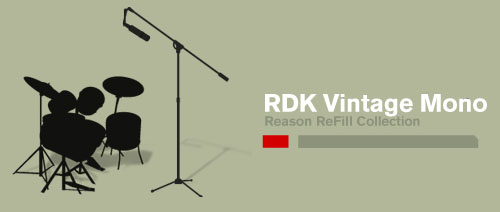 Registered users of Reason Drum Kits 2 can now add a new color to their drum palette with RDK Vintage Mono, a vintage-style drum ReFill in glorious mono. Vintage Mono is a bonus add-on pack for Propellerhead Software's Reason Drum Kits 2 ReFill, and features a wide array of preset kits and producer patches. The RDK Vintage Mono uses a single microphone to capture a full kit, effectively mimicking the sonic ideals and recording techniques of the 60's. The cost of these vintage dream drums? Nothing but the wear and tear your fingertips might be subject to as you log on to propellerheads.se and register your copy of Reason Drum Kits 2.
RDK Vintage Mono is made up of 55 mb of new samples and features the following patches
14 Preset Kits in four categories:
– Pop
– Rock
– Vintage soul / Funk
– Misc
3 Producer kits:
– Davy D's Loopmaker
– Eric Gadd Vintage Kit
– Jocke Skog Mono Metal
The download is available to registered users of Reason Drum Kits 2.0 only. Visit the Propellerheads website for more information and downloads.