E-MU has released Emulator X2 and Proteus X2. Emulator X2 Software Sampler is the culmination of over 30 years of sampler development that offers the sound quality, synthesis and filters of E-MUs hardware samplers and introduces a host of new tools that includes SynthSwipe automated hardware sampling, TwistaLoop non-destructive audio manipulator, Morph Filter Designer to create custom filters, Multi-Function Generator for advanced LFO/envelope/arpeggiator programming, advanced Transform Multiply convolution DSP tool, real-time control of multiple loop points, REX2 and MP3 import, and much more.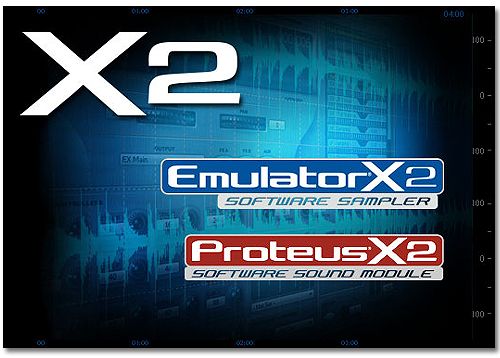 Main new features in Emulator X2 and Proteus X2:
SynthSwipe (Emulator X2 only)
SynthSwipe is a sampling tool that will automatically sample and create playable presets from any hardware or software MIDI instrument. Simply set the initial sampling parameters (i.e. key range, how many notes, how many velocities per note, velocity range) and SynthSwipe does the rest with the utmost precision.
TwistaLoop
TwistaLoop is a tool that automatically analyzes any audio by dissecting it into its rhythmic components, allows the editing of this audio with multiple loop points and regions, and offers total control over tempo with real-time audio time expansion/compression – all with E-MU's patented pitch interpolation.
Morph Filter Designer
The Morph Filter Designer provides users with filter creation tools that E-MU's sound designers have been using for years to create the morphing Z-Plane filters. The Morph Filter Designer now allows the construction of all-new exotic filter types that can be morphed from one type to another in real-time.
Multi-Function Generator
The Multi-Function Generator offers advanced LFO/envelope/arpeggiator programming, providing three function generators per voice that are directly tied into Emulator X2's powerful synthesis architecture (over 100 parameters). These Function Generators have several key sync and direction modes that enable complex levels of control, and can be programmed to modulate pitch, filters, volume, retrigger samples or LFO's, change tempo or trigger other events.
Transform Multiply (Emulator X2 only)
Transform Multiply is a convolution DSP tool that creates new sounds by combining the timbral and time elements of two signals in a way that reinforces frequencies common to both sources and discards frequencies not present in both. This powerful tool is applicable to everything from adding a custom reverb (by adding a reverb impulse to another sound) to full blown voice articulation of musical instruments (combining speech with an instrument).