Scarbee is proud to release Vintage Keyboard Collection and Keyboard Gold Bundle for KONTAKT and KOMPAKT. This version includes both a 16 bit version – suitable for live use with Laptop or Muse Research Receptor + a 24 bit version – suitable for Studio use. For Kontakt 2.11 we also included module graphics of all instruments with various controls directly available for the user.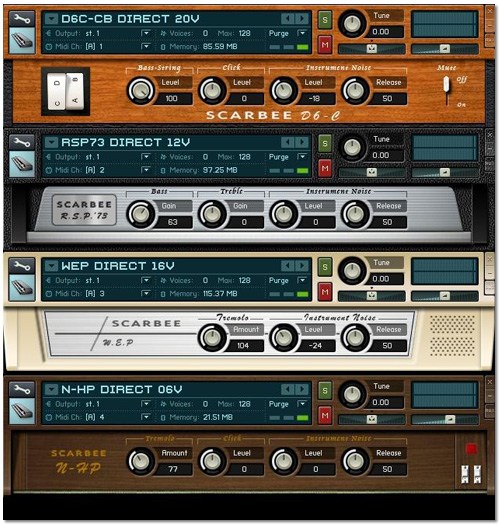 Scarbee VKC includes the class-leading and award winning RSP73 – sound of "Stage 73 Mk1" and WEP – sound of Wurlitzer 200A™ electric pianos, as well as two new instruments which are 'hot off the press' – the 'D6-C – sound of Hohner Clavinet D6™, sampled for each of the 4 standard pickup settings: DB, DA, CB, CA – in both a standard version and a version with mutebar switched ON and the rare 'N-HP' – sound of Hohner Pianet N™.
With the D6-C, Scarbee introduces 'Horizontal Release Technology', whereby release samples are chosen from the wave pool depending on how long a key has been held – allowing a staccato played note to create a different release tone to a note which is sustained for a longer period. To achieve this, each key sampled on the D6-C has 24 release samples assigned to it alone.
The D6-C also makes use of advanced triggering options to allow the inclusion of the occasional 'off center' string strike, a well known characteristic of the original instrument. Sampled, mapped and programmed with great love and slavish attention to detail, the Scarbee Vintage Collection presents all of these classic electro mechanical instruments in their ultimate form.
Features:
· 11 GB multisampled content with full decay and no loops
· 18.000 individual samples
· Includes both a 16 bit and a 24 bit version.
· Instrument graphics for KONTAKT 2.1
· Ultra realistic sound and feel
· Original Instrument Noise can be adjusted in level.
· Horizontal Release Sampling on D6-C and N-HP finally making these instruments sound like the real thing.
· All instruments have been carefully programmed so that they perfectly emulate the feel/volume of various key-zones of the original instruments.
Scarbee Vintage Keyboard Collection will be priced $299 and is shipping now.