Native Instruments is excited to announce AUDIO KONTROL 1, a compact high performance USB 2.0 audio interface that addresses the typical needs of many musicians, producers and DJs in a highly portable and affordable package. Combining professional sound quality with high versatility, and equipped with a comprehensive software package, AUDIO KONTROL 1 was designed to meet a specific sweet spot in terms of performance, functionality and price.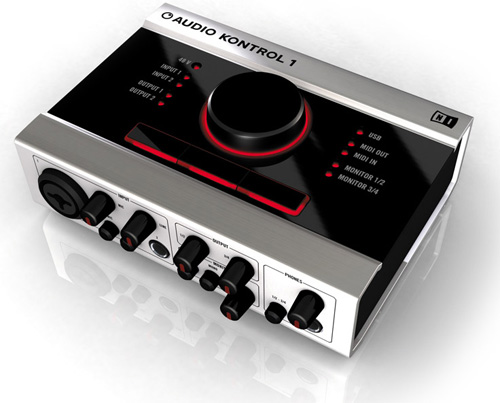 AUDIO KONTROL 1 is equipped with studio-grade 24-bit/192 kHz Cirrus Logic converters that guarantee pristine audio quality, while Native Instruments´ third-generation USB 2.0 audio driver technology ensures low-latency operation down to 4 milliseconds both on Windows and Macintosh systems. With its 2-in/4-out configuration, and equipped with microphone preamp, "Hi-Z" instrument input and headphone amp, AUDIO KONTROL 1 is suitable for a wide range of studio, live and DJ applications. Four freely assignable control elements on the top side of the unit also make it possible to adjust any software parameter directly from the interface, enabling AUDIO KONTROL 1 to double as a basic controller device.
With its small footprint and solid aluminium enclosure, the completely bus-powered audio interface provides a robust and highly portable solution for many typical recording and performance situations. AUDIO KONTROL 1 also comes with a powerful additional creativity booster in the form of a comprehensive software bundle. Included are XPRESS KEYBOARDS, three software synthesizers based on the acclaimed PRO-53, B4 and FM7, as well as GUITAR COMBOS, three professional amp emulations taken from Native Instruments´ award-winning GUITAR RIG.
AUDIO KONTROL 1 also comes with TRAKTOR 3 LE, a new DJ software based on Native Instruments´ groundbreaking TRAKTOR DJ Studio. Offering two decks with high-quality time-stretching, an integrated mixer, performance effects, loop and cueing functions, a powerful track database and seamless Beatport shop integration, TRAKTOR 3 LE is a serious creative tool, and an ideal way to enter the world of digital DJing.
AUDIO KONTROL 1 will be available in October 2006 for a suggested retail price of 279 Euro from authorized dealers and in the NI Online Shop. For more information on AUDIO KONTROL 1, please see NI Website.