MonoTouchLive its a standalone software controller, with 6 channel mixer, designed for work in conjunction with touch screen LCD panel and ableton live.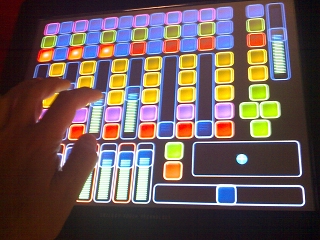 MonoTouchLive its designed for run on MS Windows XP like standalone aplication, and Apple Intel machines runing native windows with bootcamp or Parallels Deskotp for mac.
The basic idea its take adventage of any computer capable of manage two monitors at same time (dual desktop, extended desktop) Absolutly all new models of PC notebooks, and new Intel Macs, can support this feature. MonoTouchLive run on second LCD monitor touch screen capable.
How MonoTouchLive take control of Ableton?
The system send MIDI to ableton using MIDI over network software device, using third party aplication.
You can run MonoTouchLIve on standalone pc, like tablet PC , notebook, macbook etc etc, and send MIDI over network or can use MIDI LoopBack driver device, and run MonoTouchLive on same pc where ableton its playng and use second montior output.
Specs:
-Full screen mode with auto fit to screen feature.
-The layout include 6 channels mixer.
-One master section with master level, master play/stop and tempo + – buttons.
-Four buttons for navigation acrooss ableton without use the mouse.
-One crossfader.
-One auxiliar start stop buttons.
-Mini sliders for EQ.
-Configuration screen.
Per channel you have:
-Play/ Stop buttons
-Three kill freq buttons for apply to EQ
-One monitor cue button
-Three effect shutters (one push button, two standar buttons)
-Two mini sliders for apply to EQ.
Releasedate of Version 1 is Oktober 2006, the price will be 55 USD.
More info on the MonoTouchLive productpage or the MonoTouchLive website