Native Instruments is excited to announce FM8, the long-awaited successor of the popular FM7 software synthesizer, which has become a classic in its own time.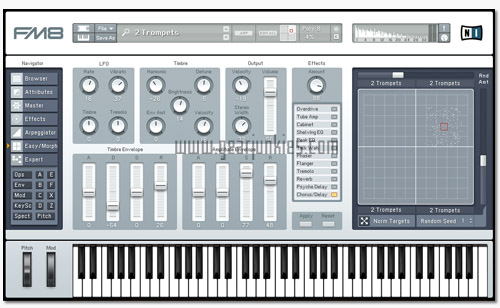 With an enhanced high-resolution audio engine, intelligent sound morphing, added performance features and a new KORE-compatible preset manager, the FM8 makes the timeless and highly expressive musical potential of FM synthesis available in a thoroughly modernized instrument that fits perfectly into today's studio and stage setups.
The typical sonic signature of the FM7, with its pristine and crystal-clear character, reaches the next level in the FM8 due to its new high-resolution audio engine. Increased internal resolution provides ultimate clarity and definition that significantly benefits the whole sonic spectrum of the instrument, from lead and bass sounds to pads, sequences and effects.
FM8 also introduces intelligent sound-morphing, a powerful tool for performance and sound design that is especially valuable for FM synthesis. A four-way sound-morphing matrix allows natural transitions and blends between as many as four different parameter sets, while an intelligent algorithm makes sure that results remain musical. An integrated advanced randomization feature offers further intuitive ways to explore the vast sonic potential of FM synthesis without expert knowledge.
The redesigned and reorganized user interface of FM8 emphasizes greater ease in accessing its synthesis functions through a stronger distinction between "easy access" and expert editing sections. The natural performance qualities of FM8 are brought to life through the addition of a highly versatile arpeggiator section, that includes a full-featured pattern editor with groove presets and shuffle function. Furthermore, FM8 integrates a new
multi-effect section with 12 different algorithms, capable of adding even more sonic variety and a charming analog feel to the wide array of digital sounds that the FM8 can create.
FM8 ships with more than 900 preset sounds for all styles and genres, including both original FM7 patches and the complete FM7 Sounds Vol. 1 and Vol. 2 libraries as well as 200 new sounds that take advantage of the advanced capabilities of the new version. The powerful new sound browser in FM8 is based on the preset categorization and management system pioneered by KORE, and achieves optimal integration with Native Instruments' innovative host system through use of the KoreSound format.
FM8 will be available in October 2006 for a suggested retail price of $ 339 / 299 Euro from authorized dealers and in the NI Online Shop. An update for owners of FM7 will be available for $ 119 / 99 Euro.
FM8 is also a part of the KOMPLETE 4 product bundle, which will in turn be available as a free update for all owners of KOMPLETE CARE 2006.