At this years PLASA show in London, attendees will get a sneak preview of Mackies new flagship DJ Mixer, the d.4 Pro.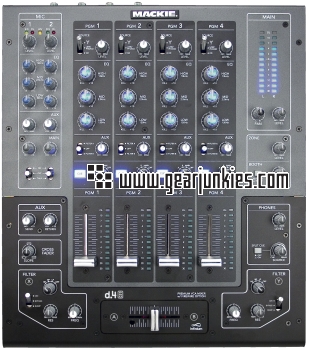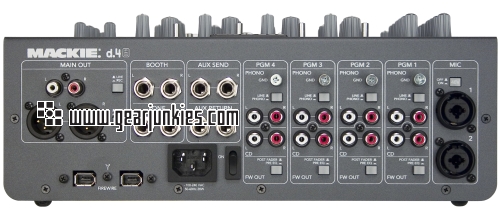 Due in early 2007, the new Mackie d.4 Pro is a fully featured, 4-channel club mixer designed to be a true centerpiece for modern day live performance and production of electronic-based music.
Unquestionably Mackie in its design, the d.4 Pro features studio-quality sound thanks to premium phono preamps, a pair of flagship Onyx mic preamps, plus the finest VCA and analog filter effects in its range. Also on board is a 3-band EQ with complete kill filters and blue backlit knobs, flexible 4-position routing switches per channel, zone and booth outs, XLR main outs, advanced cueing with split cue functionality, individual program meters as well as stereo main out meters. All this is housed in an extremely rugged, "built-like-a-tank" steel chassis—a Mackie hallmark.
But it's with the addition of the optional d.Pro FireWire card that the d.4 Pro's unique functionality truly shines. The d.Pro FireWire Card adds 14×8 I/O to a Mac or PC for live scratching, and the simultaneous playback and mixing of up to 4 music files. And since the d.Pro FireWire card ships with a fully copy of Mackie Tracktion, the d.4 Pro also serves as the ultimate interface for true multi-track recording.
Like Mackie's critically acclaimed d.2 scratch mixer, the new d.4 Pro will also incorporate the revolutionary contact-free, 45 mm optical cross fader from UK-based Infinium Technologies. In addition to lasting for an exceptionally long time, the contact-free crossfader provides DJs with unparalleled fingertip control, as well as the ability to personalize its "feel" with user-adjustable tension and cut-off points.
The price: 999 USD.