Synthogy is pleased to announce the release of its much anticipated Italian Grand Expansion Pack for Ivory, featuring a magnificent Italian 10 foot concert grand. The all new sample set installs directly into Ivory, adding over 2,000 samples or 19 GB to Ivorys award winning repertoire of pianos.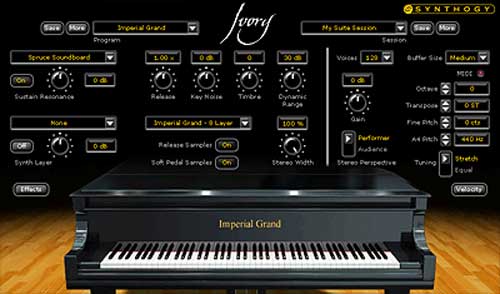 Expertly regulated and recorded at the famed SUNY Purchase concert hall in New York using Class-A equipment, this rare concert grand is well known for its dynamics, expressiveness and full-bodied character. Twelve velocity layers are included in this expansion pack, as well as soft pedal samples (una corda) and release samples at multiple time and velocity levels. This unprecedented wealth of detail allows for a realistic and gratifying musical experience at the highest possible level.
The Italian Grand Expansion Pack is offered as a separate add-on volume that requires the installation of Ivory 1.5, providing a new set of programs and key-sets that will appear within the Ivory user interface. It ships on DVD in the formats AU, VST (Mac/PC) and RTAS (Mac/PC) and retails for $139 (Euro 110).