We have more news about the golden Access Virus TI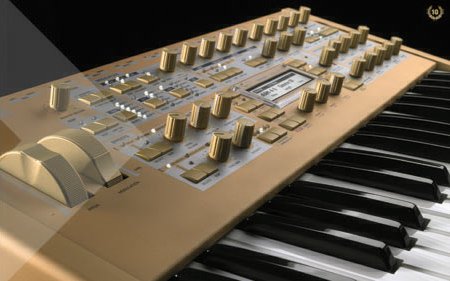 What if you had the chance to own the mother of all Viruses, an object of desire, bling bling enough to get you a record deal with Dr. Dre straight away? What if this one-off, special edition Virus TI Polar called Virus TI Goldfilter would make you as powerful as the keeper of the ring in Lord of the Rings? What if your fellow studio friends would circle around it and whisper "my precious"?
You will never know until you own it.
Dig out your video cams and prepare yourself to celebrate the Virus's 10th birthday. Film yourself reading a poem to your Virus by candlelight. Bungee jump from the Golden Gate Bridge wearing your ABBA revival costume, while toasting the 10th anniversary of the Virus. Put on your rocket-powered Rollerblades and shout out "Sniff my gas – I got infected!" as you blast through the keyboard section of your local music shop. OK – you might not want to do that – but we reckon you get the drift.
Send in a Video which shows you congratulating the Virus on its 10th anniversary, and you might be the lucky one who win's the Virus TI Goldfinger – the only one of it's kind. Yes, it's true – scary but true –
The Goldfilter Video Contest starts First of November 2006. We will supply every applicant with an FTP upload location on 04 Jan 2007, so you have plenty of time to refine your video. An email with detailed upload information will be sent out to every subscribed applicant around that time. We will announce the winner on NAMM show 2007 (18.1.2007) and might show the video on the Access booth and on the Access website. We will also show a best of selection on the Access website. We will send the Virus TI Goldfilter out to an address of the winner's choice, free of charge, after the NAMM show. Depending on where you live, import taxes might apply which we cannot cover.
Every competitor can only send in one video with a maximum duration of 90 seconds. Videos with nude, explicit or downright dangerous content will be disqualified. By sending in a video you grant Access Music permission to use and distribute it royalty-free. Access Music becomes the sole owner of the winning video clip. By sending the video in you guarantee that no third party copyrights are being violated and that you are the owner of the entire content you send in. We only accept videos you can playback on a Windows XP or MacOS X computer without additional software and/or codecs. The judges' decision is final.
In order to participate in the contest you need to register with a valid email address. We will send you a confirmation email straight away after registration. We will keep you informed and send you further information once the time has come to upload the videos.
Register at access-music.de