Numark is proud to announce CUE, an intuitive and reliable DJ software solution that lets you scratch, mix, and sample digital audio and video files all without the need for extra hardware.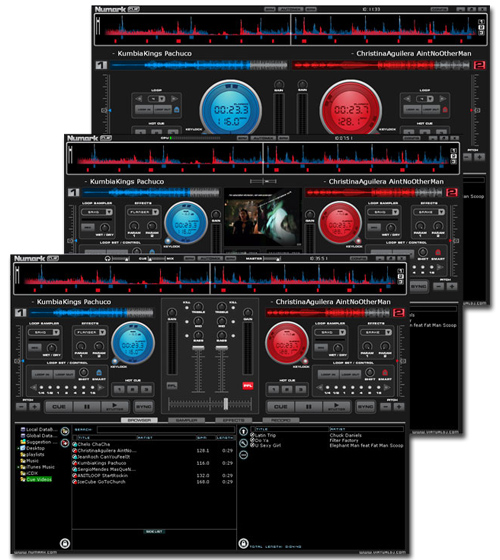 CUE includes a wealth of features, including automatic beat-matching, seamless looping, instant pitch-adjust, dual waveform overlay, and hot-cues. Staying on beat is simple with BPM-aware effects, samples, video transitions, and more. Two independent zero-latency virtual decks are seamlessly controlled with your mouse and keyboard, from standard MIDI devices, or from revolutionary HID devices such as Numark's iCDX. Compatible with Windows computers, CUE can play directly from a CD or from a variety of digital audio files including: MP3, MP3Pro, MP4, M4A, WAV, AIFF, CDA, WMA, ASF, OGG, and iTunes ACC (non-DRM), and is also compatible with music subscription services such as Yahoo! Music Unlimited, Virgin Music and Napster Music.
In addition to its extensive audio capabilities, CUE gives access to a whole new world of video mixing possibilities. DJs can now scratch, beat juggle, loop, and mix their favorite videos directly in the software with the same functionality they enjoy with audio and more. The video output can be displayed on any video monitor, projector or computer; CUE easily handles DVD, VOB, DIVX, MPG (1,2,4), AVI, WMV, and Karaoke (CDG), files. CUE will also be included as the software that powers Numark's Virtual Vinyl, which is slated for release in the Fall.