After the recent announcement of BassLine Pro 2, AudioRealism now announces Drum Machine. Deep flavored bassdrums, crispy snares and saucy hihats is the stew that made the analog drum machines so tasty. AudioRealism Drum Machine contains two modeled vintage drum machines for double the gastronomical pleasure. Sprinkled with a Pattern controlled filter and a distortion unit makes for a pleasurable meal that will satisfy the sweetest tooth to a hard baked sludge for those with tougher digestional systems.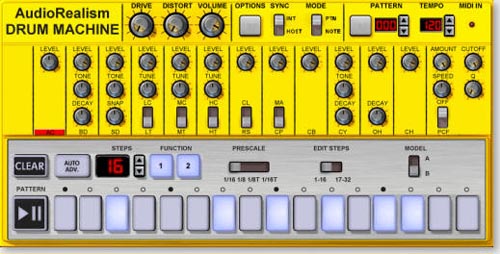 Features:
* Two realtime switchable drum machine models, 11 sounds for Model A and 8 for Model B.
* Internal 32 step sequencer with global accent per step, four prescale selections per pattern
* Various pattern transformation functions
* Full MIDI CC with learning function
* MIDI Output
* Rebirth pattern import
* Two MIDI modes (Pattern and Note)
* Integrated distortion unit
* Pattern controlled filter (PCF)
* Sample accurate sync to host
Release date expected Q1 2007. Final pricing to be announced.