Native Instruments today released KORE 1.1, an update for its Universal Sound Platform. The new version brings a wide range of functional enhancements, including support for the new SingleSound format, optimized integration with recently released NI software instruments, pre listen functionality, an additional selection of inspiring KoreSounds, and the ability for the KORE software to operate without the hardware controller attached.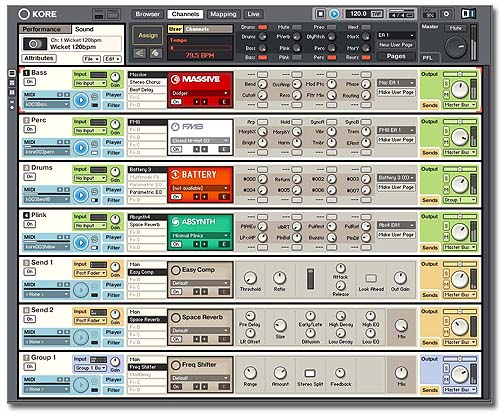 The SingleSound format complements the existing MultiSound format in KORE, and optimizes handling of patches that only utilize a single instrument or effect. The format allows for sound categorization and attributes, and is also used by MASSIVE, ABSYNTH 4, BATTERY 3 and FM8, maximizing integration and compatibility between KORE and individual instruments.
The new pre-listen functionality in KORE makes browsing and evaluating sounds even more efficient, by allowing the auditioning of both SingleSounds and MultiSounds directly inside the sound browser with a single mouse click. KORE 1.1 also offers a selection of 55 additional MultiSounds that utilize the sonic capabilities of MASSIVE, ABSYNTH 4, BATTERY 3 and FM8.
Further improvements in KORE 1.1 include the addition of an External Sync function for external MIDI control, a new Add/Replace function for KoreSound editing, and a large number of minor optimizations and fixes.