Native Instruments released an update (version 3.0.1.) for their Drum/Sampler Vsti Battery.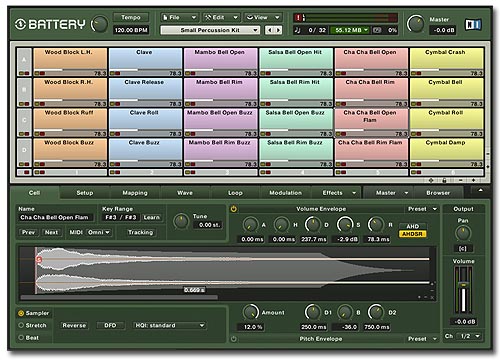 BATTERY 3 is the professional standard for drums and percussion. The latest version of the acclaimed drum sampler fuses an extensive library with functionality and simplicity. A powerful new engine and a host of sound shaping options deliver tight, punchy drums while the user-friendly interface guarantees instant access and complete control.
Improved functions:
* Demo Mode Functionality.
* Drummaps for Cubase.
* Cells: Add Sample function.
* Cells: Accelerated Trigger Animation.
* Cells: Improved Replace Cell function.
* Browser: Improved file info display.
* Acid Loop import: Original loop is now also imported.
* Browser, Mapping Editor: Improved Display.
* Browser: Improved Preview function.
* Automation Page Handling.
* Loop Page: Improved Graphics.
* Cell Page: Knob, Label descriptions.
* Cell Page: Pro Compressor Button.
* Wave Page: Pointer, colors added.
Bug fixes:
* Automation Recording.
* Memory Warning Wave Editor.
* Round Robin Problems.
* Follow Cell Selection.
* Mapping Window: Replace Sample.
* Output Routing Problems.
* HQI Mode.