With the vocal machine CANTOR, VirSyn introduced a groundbreaking technology for vocal synthesis for musical applications.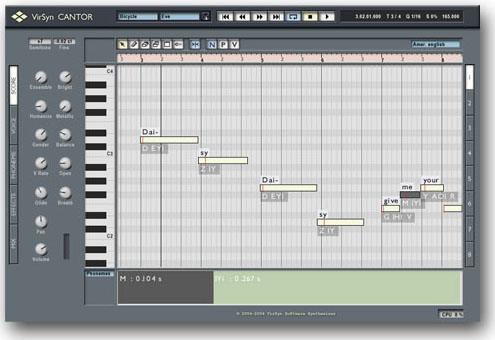 The human voice is the most sophisticated and versatile instrument used in musical expression. With CANTOR an exciting new era of realtime vocal synthesis begins right now ! Imagine entering your lyrics in plain english and then "sing" your lyrics instantly just by playing the melody on your MIDI Keyboard. Add realistic expression with realtime parameters controlling vibrato rate and depth or changing the character of the singing voice from female to male.
Features:
* Realtime vocal synthesizer.
* 8 independent vocal lines (parts).
* English pronouncing dictionary with 120000 words
* German pronouncing dictionary with 100000 words
* VOSE vocal synthesis engine – no samples used.
* Built in sequencer with matrix editor.
* Voice editor for simulating the vocal cord.
* Phoneme editor for simulating the vocal tract.
* Individual modulations for each note.
* MIDI Import function for notes, lyrics, expression and pitch bend data.
* Manual/automatic operation with VST/AudioUnit/RTAS Host.
* Built in mixer for layer and split key functionality.