Digidesign is now shipping Pro Tools 7.3 software, a powerful new Pro Tools release that delivers tons of exciting new features and speed enhancements to your Pro Tools|HD, Pro Tools LE, or Pro Tools M-Powered system, empowering you to work faster than ever before to keep up with your creative streak.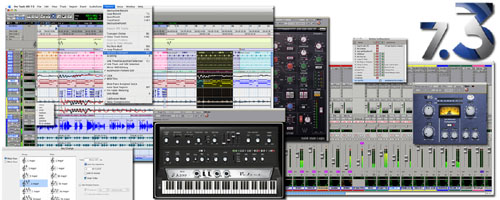 With new music composition tools, customizable user enhancements, and improved post production workflows, Pro Tools 7.3 provides everything you need to record and mix music and audio — and fuel your creativity.
Pro Tools 7.3 software is available for all Digidesign-qualified Windows XP- and Mac OS X-based Pro Tools systems — including Intel-based Mac systems — and across all Pro Tools product lines (Pro Tools|HD, Pro Tools LE, and Pro Tools M-Powered).