Digidesign is pleased to announce it is now shipping the VENUE All Access Pack, a powerful collection of the most coveted, high resolution TDM plugins for mixing live sound on any VENUE system.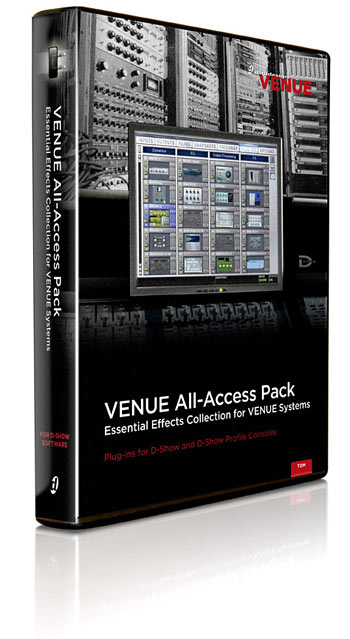 The VENUE All-Access Pack features a collection of the best plug-ins on the market designed by some of the most influential signal-processing innovators in the industry, including Digidesign, Aphex, Chandler Limited, Crane Song, Drawmer, Eventide, Focusrite, McDSP, Serato, TC Electronic, and URS.
"The VENUE All-Access Pack represents a collection of some of the most requested TDM plug-ins by mixers using VENUE," says Robert Scovill, Digidesign's market manager for live sound products. "The bundle also helps sound companies and VENUE owners begin to build their virtual inventory with relevant and in-demand processing at a premium savings."
The VENUE All-Access Pack provides an essential plug-in collection for live sound with savings of up to $4,800. With its diverse set of effects, creative dynamics, and EQ processing, the VENUE All-Access Pack puts indispensable signal-processing power at the mixer's fingertips to strengthen sounds, address challenges, and help achieve an unmatched level of quality and detail in his or her live mixes.
Featured Plug-ins:
* Aphex Aural Exciter & Big Bottom Pro Bundle
* Chandler Limited EMI TG12413 Limiter
* Crane Song Phoenix
* Digidesign® D-Fi™
* Digidesign Maxim™
* Digidesign SansAmp PSA-1™
* Digidesign TL Aggro
* Digidesign TL EveryPhase
* Digidesign TL Space™
* Digidesign Tel-Ray® Variable Delay
* Drawmer TourBuss
* Eventide Anthology II
* Focusrite Forte Suite
* McDSP Channel G
* McDSP MC2000
* Serato Rane Series Dynamics
* Serato Rane Series Graphic EQ
* Serato Rane Series Parametric EQ
* TC Electronic DVR2 Digital Vintage Reverb
* TC Electronic NonLin2 Stereo Effects Reverb
* TC Electronic VSS3 Stereo Source Reverb
* URS 1970 Compressor
* URS 1980 Compressor
* URS A-Mix EQ
* URS N-Mix EQ
System Requirements:
* VENUE D-Show™ or D-Show Profile™ system running D-Show 2.0.2 or higher software
* Available USB port for iLok USB Smart Key (included with preauthorized licenses for all plug-ins)
The VENUE All-Access Pack is available for $8,995.
For more information, visit their web site.