Introducing the next generation of EDIROLs popular MIDI keyboard controllers. In addition to providing more physical controls than previous models, the PCR-300, 500 and 800 also offers new innovative and intuitive controls. All three models are solidly built, and optimized for both music production and live performance.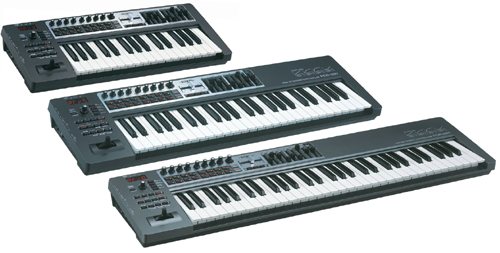 The new ultra-sensitive keyboards provide a wider dynamic range under the player's fingertips, while new aftertouch sensors allow the keyboardist to play more expressively. Smooth key action, keys shaped for comfortable glissando playing, silent operation, and stable key mounting all contribute to the enhanced playability of these keyboards.
The new PCR series has all the existing controls of the previous range, but adds exciting new features, such as velocity pads — perfect for playing drums and triggering sampler phrases. These precision pads can operate as buttons or velocity pads, and the handy LED indicators identify if they are velocity or fixed-velocity.
The new Crossfader allows you to control two parameters at the same time, and can work as a DAW software control for zooming screen views, as well as for synthesizer filters and DJ gestures. The new longer-throw sliders can control eight track faders and one master fader, or function as organ drawbars.
Dynamic Mapping allows the PCR to automatically assign its physical controls to the most important parameters in the current window of the software being used. Fifteen user memories are provided for storing your favorite setups. When using software that's not compatible with Dynamic Mapping, you can manually configure the Control Map settings from the PCR itself or the included PCR Editor Software (Mac or Win).