IK Multimedia is proud to announce Miroslav Philharmonik Classik Edition, an introductory version to the highly popular virtual instrument orchestral plugin. Based on the classic Miroslav Orchestra sample collection masterpiece, Miroslav Philharmonik CE is a complete orchestral instrument that any musician can afford.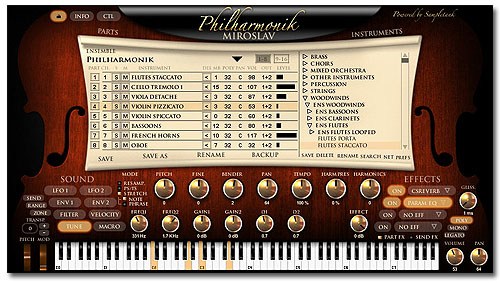 A complete and full-featured orchestral virtual instrument covering solo instruments and ensembles. With 250 orchestral sounds spanning the entire orchestra in 1.5GB of samples, Miroslav Philharmonik CE is one of the best sounding orchestra sound modules at a price that is affordable for any musician.
Miroslav's sounds have a musicality and playability rarely found in other orchestral sample collections. There has never been a body of work that has captured the same depth and beauty of real players putting feeling and emotion into the samples quite like the collection assembled by Miroslav Vitous. A highly accomplished musician (one of the founding members of the band Weather Report), Miroslav knew how to bring the most musical aspects of the instruments and players together in a sample collection.
Beautifully sampled in the historic Dvorák Symphony Hall with true spatial positioning. Because Miroslav sampled the orchestral ensembles in their correct spatial acoustic positioning within the Dvorák Symphony Hall in Prague, one of the best sounding halls in the world, the sounds fit together when layering or multitracking like a high-quality classical music recording. This gives the sounds of Miroslav Philharmonik CE an especially rare acoustic quality and realism that is unmatched in the sample world.
Based on the original Miroslav Vitous Symphonic Orchestra sample collections. For many years, composers have paid thousands of dollars to acquire the beauty of the Miroslav Vitous Symphonic Orchestra samples. For the first time, a selection of this award-winning material is finally available at a price that any musician can afford, with 1.5GB of samples and 250 sounds for only a fraction of the cost. Miroslav Philharmonik CE is one of the most affordable, complete, and beautiful sounding orchestra products in its range.
Miroslav Philharmonik CE Features:
· 16 part multitimbral sample-based orchestral workstation
· 250 sounds totaling 1.5GB of samples
· 20 Classic DSP effects
· 4 Insert effects instrument
· 4 Master effects with separate sends
· High-quality master reverb derived from CSR
· Multiple synth engines including STRETCH™ and Pitch-Shift/Time-Stretch
· Zone feature for accurate single sample editing
· Full MIDI control of performance parameters
· Part preset and Combi preset customization features
· 256 notes polyphony
· Available as a VST, RTAS, AU plug-in (as well as a standalone application) for Mac OS X and Windows from the same box
Price & Availability:
Miroslav Philharmonik™ Classik Edition will be available in February 2007 for an MSRP $249/€199 (tax excluded).