IK Multimedia is proud to announce the worldwide distribution of Sonoma Wire Works RiffWorks Standard, a guitar recording application that allows you to record efficiently, stay creative, produce high quality songs, jam online, and podcast your tunes without ever putting down your guitar.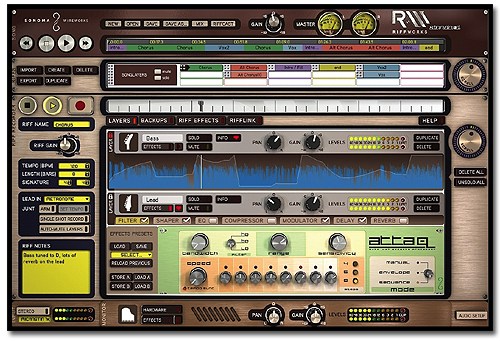 Guitar friendly recording software to create entire songs with an easy to use Riff-based workflow that encourages experimentation with song structure. With RiffWorks Standard, you can capture ideas at the moment of inspiration by setting a tempo and starting to record by simply strumming your guitar. Experiment with song structure using a Riff-based workflow that records bite-sized pieces. Because tracks are created automatically as you play, you can easily record multiple takes or layer parts without stopping the creative flow. There are no wave editors or sequencers in RiffWorks, instead the interface will inspire you to create songs using a familiar "real world" interface – it looks like gear! RiffWorks is easy and fun to use because the focus is on playing as opposed to complex engineering.
Add beats easily to your guitar and bass part with InstantDrummer. Pick a groove, count off a tempo, and InstantDrummer inspires you to play along with its continuously varying drum tracks using perfectly matched, full kit, studio drum recordings. Spin the INSTENSITY knob to set the mood from mellow to aggressive. Dial in some VARIATION to get a constantly evolving beat. AMBIENCE adds room sound and GAIN sets the level. There's no tedious editing or disappointing sounds, just a great drummer, ready to jam. InstantDrummer is an integral part of RiffWorks. Eight free InstantDrummer sessions are included with RiffWorks Standard and more are available online.
Includes 7 studio quality effects plus AmpliTube LE. RiffWorks includes seven effects from Sonoma Wire Works and the ability to load amp modeling plug-ins for further expandability. Right out of the box you can add great sounding, fully optimized effects like auto-wah, multiband compression, modulation, delay, reverb, and British style EQ to your tunes. Effect algorithms were passionately designed by Sonoma Wire Works for superb sound quality and are optimized for maximum performance. Plus the included AmpliTube LE, with 9 amp combinations and 4 effects, is able to produce tons of different great guitar tones.
Instantly podcast to an enthusiastic community of musicians. RiffCaster is a free service for all RiffWorks users and is breeze to use. Share songs with and get feedback from other RiffWorks users and the world. There is plenty of room for content and now it also includes instant podcasting! In addition, RiffLink (60-day trial version included) offers RiffWorks users built-in online collaboration. Share a song session over the Internet with up to four other musicians to play along with each other in what feels like real-time with no worries about latency. New tracks show up as soon as they are finished streaming and are always perfectly in sync. Each layer is instantly streamed to other current users and is also saved on the server for those who wish to contribute later.
RiffWorks Standard features:
· Automatic Track Creation & Loop Recording
· 24 layers plus backing tracks with continuous volume control per layer
· 4 tempo-synchronized backups: InstantDrummer™ with adjustable intensity and variation,
· REX Player, ReWire mixer, and Metronome
· 7 studio quality effects (Wah, Multi-band compression and distortion, Modulation, Delay, Reverb, Compression, and British Style EQ)
· Guitar Amp and Effects (VST/Audio Unit) Plug-in support.
· AmpliTube LE included
· Mix down to WAV or OggVorbis
· RiffCaster™ instant podcasting
· RiffLink™ online collaboration (60-day trial)
· Supports Win XP ASIO and Mac OS Core Audio Interfaces
Price and Availability:
RiffWorks Standard will be available worldwide through IK Multimedia in early 2007 at an MSRP price of $169/€139 (tax excluded).