Roland is proud to announce the new flagship V-Synth GT Synthesizer. The Roland team once again pushes the envelope with an instrument that combines the V-Synths famous Elastic Audio Synthesis engine with revolutionary Articulative Phrase Synthesis technology and never before heard sounds in a rugged, road ready chassis. The new V-Synth GTs expression and realism is second to none and is soon to become the de facto standard for discerning synth players everywhere.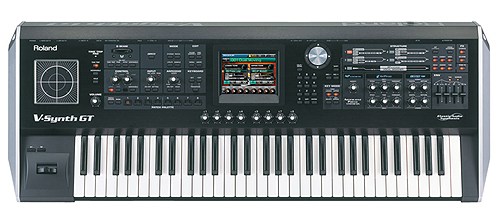 By integrating a new dual core V-Synth engine, the V-Synth GT can combine Elastic Audio Synthesis, Vocal Designer Technology and AP Synthesis in real time. Roland's proprietary VariPhrase technology is also integrated into the V-Synth GT. Together with its analog-modeling engine, External Audio input, and digital sampling architecture, the V-Synth GT provides an incredibly wide and colorful foundation on which to capture, manipulate and create sounds.
The V-Synth GT is the first synthesizer in the world equipped with AP (Articulative Phrase) Synthesis. This revolutionary form of modeling creates the ever-changing behavior, nuance, and sound of an instrument as it's being played. AP Synthesis can utilize both acoustic and synth waves to create stunningly expressive results, and can be applied for realistic acoustic instrument simulation, as well as new sounds never heard before.
Features:
– Multiple forms of advanced synthesis under the control of a friendly, icon-driven interface
– lNew AP (Articulative Phrase) SYNTHESIS technology models the performance behavior and nuance of musical instruments
– Includes Roland's proprietary Elastic Audio Synthesis engine plus Vocal Designer, playable simultaneously
– Sound Shaper II offers incredibly easy and efficient user programming
– Futuristic, high-quality industrial design
– Color touch-screen display with wide viewing angle