MixMeister DJ software combines the spontaneity of live DJ performances with the pinpoint precision of the best studio production software. Mixmeister lets you mix up to eight songs in a perfect beat mix at all times, so you are free to improvise with effects and shape the music in a million ways. It supports harmonic mixing, VST effects, intelligent looping, MIDI hardware controllers, and more.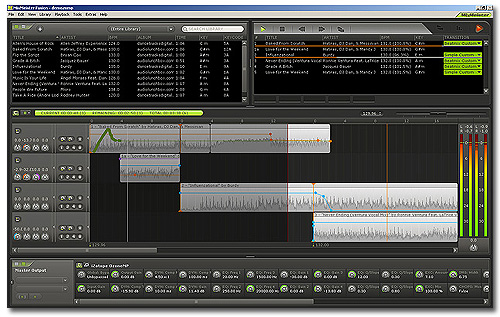 Numark's MixMeister Fusion is a powerful mixing/sequencing application that give DJs greater ability to expand into remixing and producing mixes beyond traditional mixing and blending.
Numark's MixMeister Fusion offers expansion via connectivity with a wide range of MIDI hardware controllers, and when the mix is complete it can be exported as an MP3 or burned to a CD using the software's integrated burning tools.
Features:
– Mix 2, 3, 4, or even 8 songs simultaneously while maintaining perfect sync at all times
– Set gradual adjustments in tempo, volume and EQ with absolute precision
– Play with on–the–fly looping and remixing functions
– Change the key of a song without changing tempo
– VST audio effects (included) to process part of a track or your entire mix
– Manipulate your mix in real time with a wide range of MIDI hardware controllers
– Export your final output as an MP3 or burn a CD using the integrated burning tools
– Select tracks according to key as well for harmonic mixing
– Play a live DJ set while you preview and edit any upcoming track