Rob Papen announced a new killer synth. Named Predator it combines inspiring presets and
first class features to make this your goto synth for contemporary music production.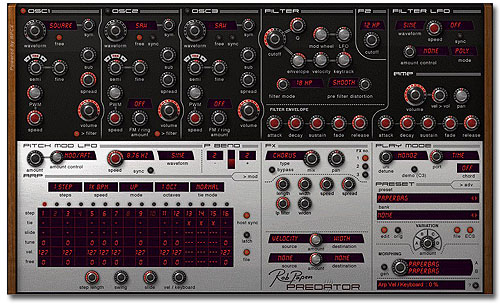 The user interface has been designed so that almost all controls are visible on screen, making it fun and incredibly easy-to-use. And if you're unsure about a particular synth function, simply right click your mouse to access the help screen.
Predator is packed with powerful features such as Preset Morphing, Intelligent Preset Variation, MIDI and Synth Controllable FX, Unison Detune, Chord Memory and an extremely versatile Arpeggiator.
Included preset banks: HipHop (NY, Club, DirtySouth and Gfunk) banks. Jump, hardcore, breakbeat, various trance styles, DnB banks and more…
Last but not least …Predator also includes PredatorFX, allowing you to use the incredible filters, modulations, effects and vocoder as an FX plug-in within your music host.
Predator really is a swiss-army knife for making cutting-edge dance music tracks.
Available around February 2007!