This limited special edition of the Reloop RP-6000 MK 6 professional turntable shows its uniqueness not only by its fine ceramic white varnish finish and white control panel.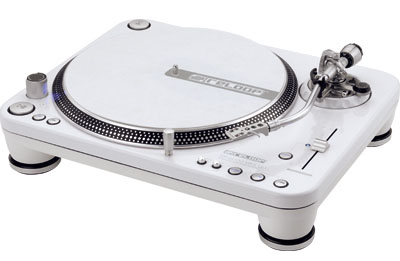 Its integrated equalizing pre-amp facilitates Line or Phono signal output, making this exclusive luxury turntable by Reloop compatible with any mixing console and amplifier without having to be grounded. And with an infinitely adjustable torque ranging between 2.5 and 4.5 kg/cm the DJ can precision-set this drive to his very handling preferences. A masterpiece of a turntable.
> Quartz-controlled DJ turntable with UPPER TORQUE direct drive, adjustable start-up torque (2.5 kg/cm – 4.5 kg/cm), fine ceramic white finish, Phono and Line output (no grounding necessary), direct hook-up of turntable and motor for maximum stability, adjustable start/stop speed (0.2 – 6 sec.), brushed aluminium finish, metal casing, extra heavy design, height-adjustable S-shaped pickup arm with anti-skating, Pitch range +/- 10%, +/-20% & +/- 50%, easy-to-exchange freely revolving stylus illumination with super bright LED, Quartz lock, safety mains switch, forward and reverse motion switch, additional start/stop button for vertical installation, rubber ply to reduce vibration and ambient noise, detachable mains and cinch cable, immersed connection cavity for easy case installation, shock-absorbing feet
Features:
Model: 3 speeds, fully manual
Drive: Quartz-controlled UPPER TORQUE direct drive
Speed: 33 1/3, 45 and 78 rpm
Start-up torque: 2500 – 4500 g/cm
Dimensions: 450 x 160 x 353 mm
Weight: 11.0 kg
Comes with slipmat, headshell and pickup arm illumination, but w/o system.