Pianos has been released for Mac OS X (Universal Binary supporting Mac Intel and Power PC Macs). Three optional soundpacks are available.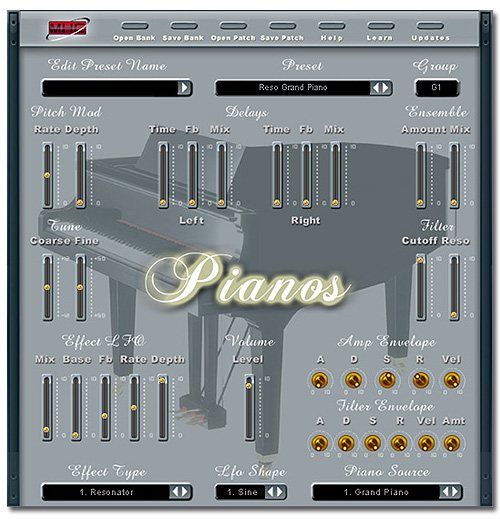 Pianos is an ambient piano plugin for Windows and Mac OS X, including hundreds of unique piano sounds: pad/piano layers, pianos with lush strings, electric/synth pianos etc.
Features:
* Hundreds of piano waveforms/samples.
* Supports sustain pedal (and other MIDI controllers).
* Crossfading and layered effects include distortion, filter banks, a resonator, flanger, sub oscillation, amp modulation, pitch shift etc.
* All knobs can be mapped to MIDI controllers with a simple "learn" function.
* Ensemble with adjustable amount and mix. Stereo delays.
* Full polyphony. Only your CPU sets the limit or you may set a fixed voice limit.