For those of you who still don't know what Soundcloud is, SoundCloud is a online audio platform that lets music professionals receive, send & distribute their music. Primarily SoundCloud provides a efficient and simple way for music professionals to exchange music they are working on in private settings allowing for easy collaboration and communication prior to a public release. With SoundCloud the music professionals can easily send & receive large amounts of tracks without cluttering their email inbox, having to make use of generic file sending services or manage their own server.
This week, SoundCloud has opened up a bit more to allow you to find and share more sounds to use and reuse. With new search and discovery features for Creative Commons tracks, your creations can go much further. More options give you more freedom over your audio content on the web. It helps expose your work and find people to collaborate with that you perhaps wouldn't normally find.
New features:
1. Advanced Search
That's right: finally! Many have been waiting for this for a while and Soundcoud is happy to announce that advanced search options are now available. You're now able to search for things like genre, tags, a specific label, track type and much more.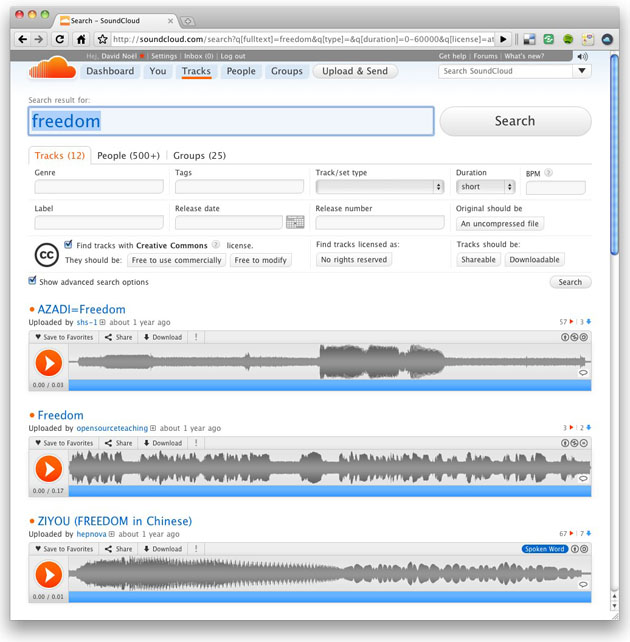 2. Browse by tag
Also new: clicking the tag on a player will lead you to a new Explore page that lets you discover other tracks by tags where you can also choose to see the latest tracks added or sorted by popularity. A tagcloud on the right of the page lets you jump straight into a different genre.
3. Creative Commons integration
Creative Commons (CC) is a non-profit organization that has released a set of free and voluntary copyright licenses. With Creative Commons licenses, creators have the freedom to choose how their work can be used, shared and re-used. There are six different licenses that provide users with different levels. Browsing audio released under CC just became a whole lot easier with a dedicated page that is just deployed to the site. Check it out: http://soundcloud.com/creativecommons
Get involved! Soundcloud would love to see you contribute!

Sounds of CCentury is a group on SoundCloud collecting the coolest CC-licensed and No Rights Reserved historic audio. We've started it out with a few public domain tracks, but if you run an archive, have access to other interesting public domain tracks, or just happened to have a field recorder handy when something amazing happened, please contribute to this collection. If you can't contribute, there's already some incredible stuff to listen to, and there will be more added in the next days and weeks. Check out the first contributions below and submit yours here: http://soundcloud.com/groups/sounds-of-ccentury
Read more on the Soundcloud Blog…