The Mixed In Key team has been busy developing new software, first of which is DJ Tempo, available on the iPhone right now. DJ Tempo does automatic BPM detection on your iPhone. Simply select the amount of time you'd like it to analyze the music – 5, 10, or 20 seconds – and touch the Analyze Tempo button. Within seconds, the BPM appears on the screen.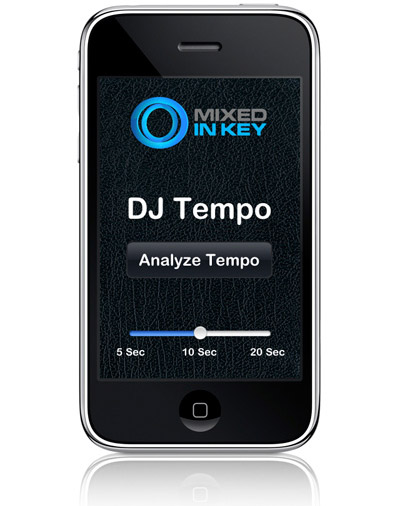 This is the easiest way to find out what tempo the DJ is playing. You also use it in the car while listening to the radio. It's a fun DJ tool for everyone. To buy the app right now, please search the App Store for "Mixed In Key" and purchase it wirelessly. Please give it FIVE STARS if you love using it, and tell your friends.

Mixed In Key + Platinum Notes + DJ Tempo + ???
Mixed In Key is the harmonic mixing DJ tool: www.MixedInKey.com
Platinum Notes improves the quality of your music files using elite audio filters. We released the 3.0 update earlier this year, and are still looking for great user created templates. If you created a template that you love to use on your music, please send it to contact@mixedinkey.com. You can read more about Platinum Notes here: www.PlatinumNotes.com
DJ Tempo is MIK's new iPhone app. Buy it on iTunes or directly through your phone.