Muse Research has announced a major overhaul of their Plugorama website, which supports their RECEPTOR 2 line of dedicated hardware plug-in players. Plugorama.com is a resource for both pre- and post-sales assistance with RECEPTOR 2, providing registration, upgrades, software package options, and technical support all in one convenient location. The company has spent several months redesigning the site to provide a much-improved customer experience, regardless of your purpose for visiting the site. The company also announcing new software bundles at low prices, new premium support packages for customers, and lower prices across-the-board for people looking to purchase a RECEPTOR 2.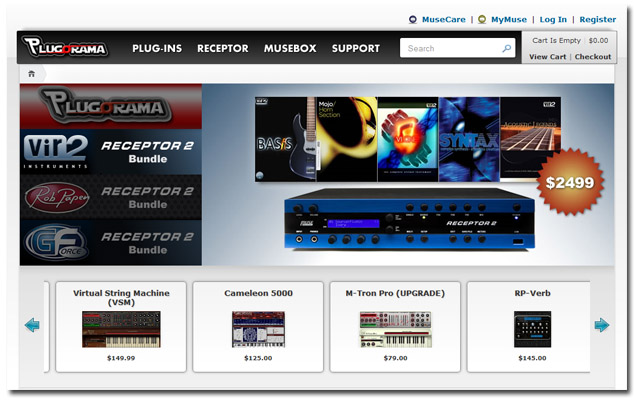 New Lower Prices on RECEPTOR 2 now at Plugorama
One of the most significant changes to the Plugorama website are new prices for the entire RECEPTOR 2 product line. Effective immediately, the RECEPTOR 2 will sell for $1599, the RECEPTOR 2 PRO will sell for $1999 and the RECEPTOR 2 PRO MAX will sell for $2499. Prices are in US Dollars and are only available to residents of the US and Canada. These same new lower prices are available through Muse Research Dealers throughout North America.
"Our goal for the Plugorama.com redesign was to make things much more convenient for our customers, starting with making it more convenient to purchase a RECEPTOR 2 than ever before. Anytime you can offer lower prices to musicians it's a great thing, and people who may have found the cost of RECEPTOR 2 prohibitive will be pleased to find that RECEPTOR 2 costs no more than a similarly configured computer, but offers many more advantages over a computer in a performance situation," commented Chris Halaby, CEO of Muse Research. "Also, we are now offering extended support and warranty options so that people can purchase with confidence knowing that they have the full backing of our support organization once the initial factory support period has expired."
Purchase with Confidence
RECEPTOR 2 has been wining the confidence of major artists and bands for many years, providing reliable performance on countless world tours with thousands of shows played under extreme conditions. And the new plugorama.com website offers customers the confidence that comes from knowing that all purchases are covered by a no-risk 30-day return policy, free custom-installation of any compatible software that they own or purchase and wish to run on it, and quick turnaround on orders. Of course, software purchases are not returnable once opened or registered.
One Stop Support Now Starts On-Line
In keeping up with the trend towards offering extensive on-line product support, Muse Research's dedicated support staff is available to offer advice and help with any RECEPTOR related questions, both hardware and software related on-line at no charge to the customer. An extensive searchable database provides programming tricks, how to videos, and technical advice to even the novice user, and of course specific questions can be answered by simply filling out a support request on the site for prompt expert handling by the RECEPTOR support team.
RECEPTOR 2, RECEPTOR 2 PRO and RECEPTOR 2 PRO MAX are used by thousands of professional musicians worldwide, on stage, in the pit, and in the studio. RECEPTOR 2 has joined the rigs of a wide range of artists including Coldplay, U2, P!NK, Herbie Hancock, John Mayer, Depeche Mode, as well as in Tony-award winning Broadway productions and hit musicals in London's West End. RECEPTOR can be heard nightly on a variety of television shows, movie scores, and of course on tour.
Find out more at Plugorama.com.