Korg announced two limited color editions of thier products. Now the Wavedrum is available in a limited edition black color with a solid black metallic rim and an exclusive BLACK SUEDE Remo drum head – projecting a different vibe than the aura of the original silver. Korg also announces the limited edition SP-170RD, a vibrant red color option for the SP-170 Digital Piano, further expanding the striking visual style of this popular model.
The original Korg Wavedrum was introduced to the music world back in 1994. This legendary musical instrument was instantly famous for its innovative design, performance possibilities and unique sounds. Since its introduction in 2009, Korg has been pleased to see the success of the affordable, next-generation Wavedrum Digital Percussion Synthesizer.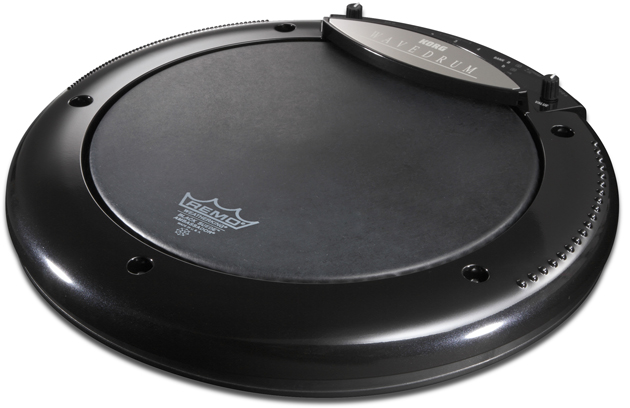 Wavedrum can be used as a stand-alone percussion instrument, or integrated into an existing drum kit or percussion rig. Unlike digital trigger-based systems, Wavedrum uses a real drum head as the playing surface, providing an authentic and familiar feel. This allows the performer to employ sticks, brushes, mallets and/or traditional hand-drum techniques (mute, slap, bend, etc.) to play with comfort and confidence. In addition to drummers/percussionists, vocalists, DJs, and many other entertainers and musicians can take advantage of the versatility and playability of the Korg Wavedrum.
The most portable and affordable piano Korg has ever developed, the SP-170 does not cut corners on delivering a great piano playing experience. Its streamlined design reveals no visible controls, providing an elegant and inviting presentation that focuses on what is most important in a piano – sound and feel.

The SP-170 features a duo of concert grand piano sounds, each recorded with meticulous care. Numerous velocity layers are used to capture nuances of playing dynamics, allowing the instrument to respond expressively to every touch. Eight additional highly-accurate sounds complete the palette of keyboard tones: Electric Piano (x2), Harpsichord, Clav, Vibraphone, Pipe Organ, Electric (Drawbar) Organ and Strings. Selectable Reverb and Chorus effects add warmth and spaciousness to the sound. While the SP-170 never requires tuning, it offers adjustable tuning that can be matched to other instruments, and it can also be transposed into any musical key.
The Korg Wavedrum Black will be available in November 2010, with U.S. MSRP TBD. The red SP-170 will be available November 2010 with a retail price of $699.00. An optional matching wooden stand will be available with a retail price of $125.00.