Hercules, a leader and pioneer in digital DJ controllers for computers, announces the newest version of their DJ Console line for Pro DJs, the DJ Console 4-Mx, an innovative and precise controller featuring large jog wheels (each equipped with touch sensor) a built-in audio interface tailored for DJing for easy connection with existing analog gear, and intuitive control over 2 and 4 virtual decks.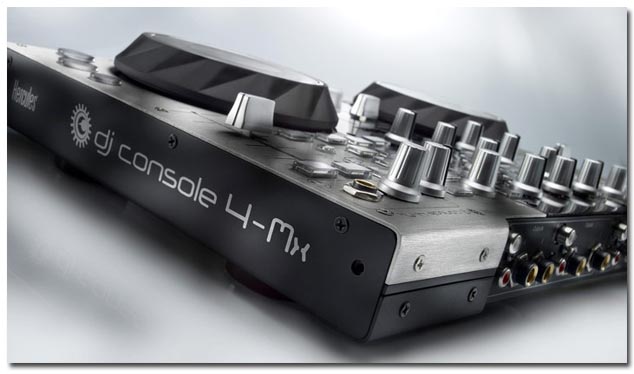 Built for the ultimate DJ mixing performance, the DJ Console 4-Mx has intuitive and sturdy steel and aluminium crafted body with a wide variety of high-performance controls including 89 controls in 2-deck mode and 150 controls in 4-deck mode. Providing the ultimate portable solution for mobile and radio Pro DJs on the go, the edgy console fits easily into the club scene and will be available from November 22, 2010.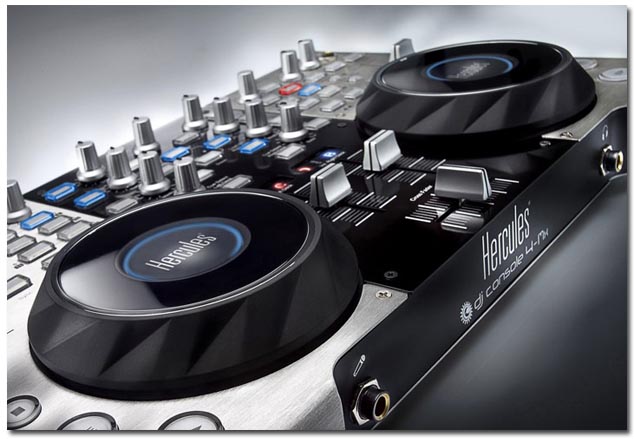 Jog wheels that change the mix
• 4.7″ in diameter x ¾ " in height jog wheels
• Detection Sensors
• Backlit Indicator in the center of each jog wheel
• External Ring for additional control
Sturdy and intuitive
• Portable Dimensions – 15.75″ x 9.8″ in size
• 3 clearly distinct sections
High-performance design
• Multiple Controls
• The effects/loops/Hot Cue zone
• Control Customization Option
• Pitch Faders
Built-in audio, for perfect fusion with DJ gear
• 2 independent stereo outputs on the back panel, for mixing and previewing tracks:
4 RCA connectors to connect a hi-fi system or a mixer
4 mono jack connectors (6.35mm) to connect PA gear, with a Ground Lift switch on outputs 1-2 (in the event of a ground loop)
1 stereo jack connector (6.35mm) for headphones, with the user's choice of one connector on the top of the console, or one on the front panel
• 2 analog stereo inputs (4 RCA inputs) to connect audio sources:
4 input levels: phono level (for vinyl turntables), consumer line level (-10dBv, for MP3 players), pro line level (+4dBu, for studio gear), and boosted pro line level (+8dBu, for the most powerful DJing CD players)
1 microphone input, with talk-over function, with the user's choice of one connector on the top of the console, or one on the front panel
2 modes: mix on 2 or 4 virtual decks
• 2 Standard Decks
• In 4-Deck Mode- the console sends more than 150 different commands to the software
• Extra Controls and Customization
The Hercules DJ Console 4-Mx will be will available at an SRP of $449.99.