Today is the day that Roland released the details of many new products for this year through the Roland Connect website. Amongst others Roland announced a Black AX-Synth, the mobile Juno-Gi synth, a new Octa-Capture audio interface and a software editor for the GAIA synthesizer.
Black AX-Synth
The popular AX-Synth Shoulder Synthesizer is now available in a premium black sparkle finish. The new glass-particle UV finish reacts to various lighting conditions, creating a glistening appearance that is striking under stage lighting. The AX-Synth remains available in the standard white finish as well.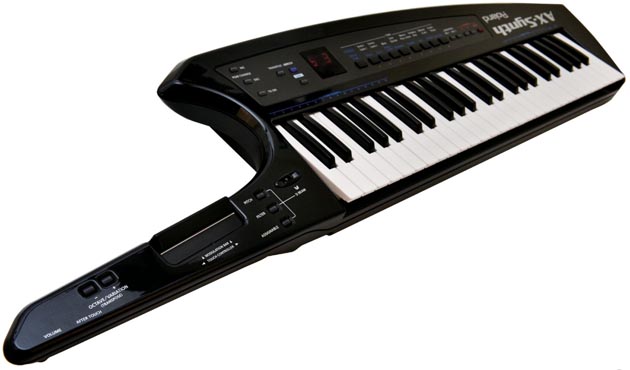 Created with the art of performance in mind, the AX-Synth allows keyboardists to connect with their audience as guitarists and singers do. It represents Roland's new generation of remote keyboards, offering an onboard sound engine that features a collection of the company's best cutting-edge synth sounds.
JUNO-Gi
Roland announced the JUNO-Gi Mobile Synthesizer with Digital Recorder. Not only is the JUNO-Gi compact, easy to use, and affordable, it also boasts an all-new sound set designed for live performance, built-in eight-track digital recorder with 64 virtual tracks, and easy integration with many digital audio workstations through its built-in audio interface.

The JUNO-Gi runs on AC power or batteries, so users can play music anywhere. Onboard are over 1,300 brand-new, top-quality sounds optimized for live playing. Sounds are organized into Live Sets, allowing four-way splits and layers with ease. Tone Category buttons make it simple to navigate the massive sound library, while the powerful mod, pitch bend, and D BEAM controllers let players add expression to sounds as they perform.
OCTA-CAPTURE
Roland introduced the OCTA-CAPTURE USB 2.0 Audio Interface, a 10- input/10-output device for computer-based multi-channel audio production. OCTA-CAPTURE sets a new standard in portable USB 2.0 interfaces, combining premium components, 24-bit/192 kHz performance, and proprietary preamp and streaming technology in an affordable and compact unit.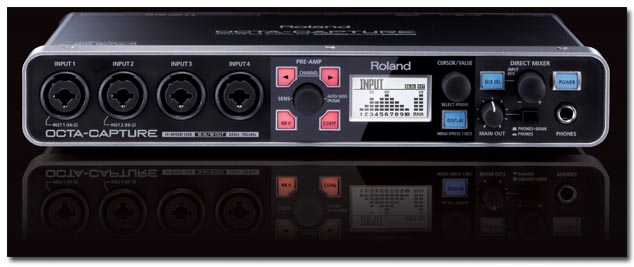 Designed for high-level audio production, OCTA-CAPTURE features eight professional-grade VS Preamps with each channel providing an combo-XLR input jack, phantom power, low-cut filter, phase invert, and digital compression. These digitally controlled microphone preamps are built with premium components, resulting in transparent audio with a superior signal-to-noise ratio. The space-saving combo jacks also accommodate ¼-inch connectors, with Hi-Z instrument inputs on channels 1 and 2 and balanced TRS inputs on channels 3-8. In addition, channels 7 and 8 are well suited for high input levels associated with kick drum and snare drum recording. Additional connectivity includes eight ¼-inch TRS output jacks, coaxial S/PDIF I/O, and MIDI I/O.
GAIA Sound Designer software editor
The GAIA Synthesizer Sound Designer, a software-based editor application for the popular GAIA SH-01 Synthesizer. Compatible with both Windows and Mac OS X, the GAIA Synthesizer Sound Designer allows users to access the GAIA synth's entire set of sound parameters visually via a computer. The GAIA Synthesizer Sound Designer is the perfect companion for all GAIA synth owners—beginners, music educators, and pros alike.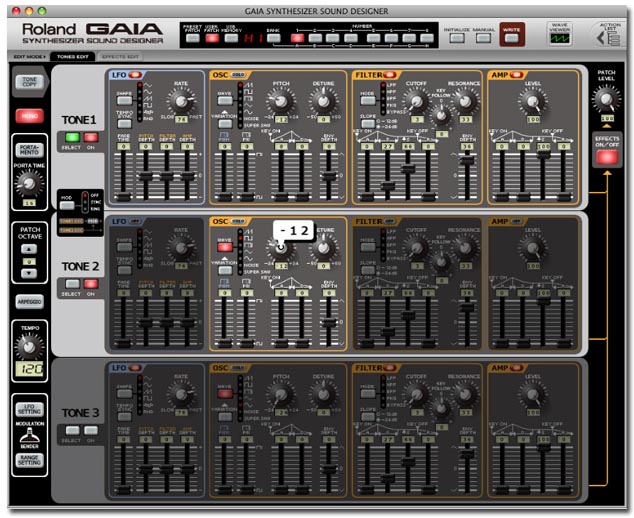 Once the GAIA Synthesizer Sound Designer is installed, all that is required is a single-cable USB connection between the GAIA synth and the PC. With the GAIA Synthesizer Sound Designer's interactive interface, users have complete command over sound creation. Every control for the GAIA's three synthesizer engines is represented, while the unique Waveform Display shows the shape of the currently edited waveform in a virtual oscilloscope, providing a graphical representation of the sound.
More details at Roland-Connect 2010…