There were some rumours alright and now it seems they are true! The highly sought-after Sunsyn 2.0 will be manufactured again in a very small run. Jomox have given a visual facelift to their 8-voice wonder, while undertaking the very difficult task of acquiring the rare yet necessary parts to enable this new production. This will ensure that the new version will sound exactly the same as the old one!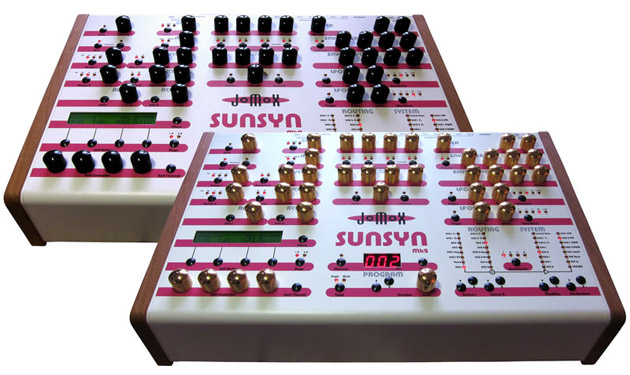 SunSyn Mk2
The word "8-fold storable modular system" would describe this unit in a much better fashion, and exactly this is the SunSyn. Each voice is a monophonic complex synthesizer of its own.
The special idea of the SunSyn is the following list of features:
2 analog VCOs
2 digital wavetables/samples – uploadable
Analog x-pole filters with morphing
Analog envelopes
Digital LFOs
Analog routing matrix, which takes 50% of the hardware space on each voice card.
The SunSyn Mk2 is available in white or black color with purple stripes. At your choice are standard black plastic knobs as well as fine metal knobs in gold, ruthenium or black with a shining surface – without extra charge.
Important note: the Jomox SunSyn 2 retails for € 4999, the order must be paid up front and the SunSyn 2 has a delivery time of about 3-4 weeks.