Getting into music production can be a difficult sometimes disheartening subject for many aspiring producers. What to buy from who and what? Presonus is offering a helping hand for these beginners. They have introduced the 1Box Recording Kit.
AudioBox is the heart of the 1Box
Why settle for a "toy" interface when you can own PreSonus quality? Perfect for musicians and podcasters, the 2-channel AudioBox USB boasts high-performance microphone preamplifiers and professional-quality, 24-bit converters. Powered by your computer, it's compact, ruggedly built… and designed to work perfectly with Studio One recording and production software on your PC or Mac®.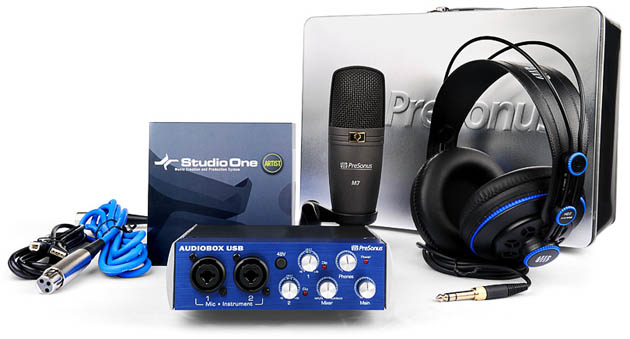 Studio One Software is the soul of the 1Box
No other entry-level recording and production software is this easy to use, yet is capable of creating studio-quality output. Studio One™ Artist lets you work quickly and stay focused on your inspiration. Incredibly easy to learn, it offers unlimited tracks and plug-ins and delivers features not normally found in entry-level DAWs. Access powerful editing tools without wading through menus. Load and save audio clips, MIDI files and, effects by drag-and-drop. Studio One makes it easy.
The M7 Microphone, High-Definition Condenser Microphone, and the HD7 Headphones, Professional Monitoring Headphones, are also included in the 1Box Kit.
The 1Box complete hardware/software recording kit is available with a pricetag of £ 199/Euro 225 .