Korg USA, has announced a collection of retro-style t-shirts that pay tribute to Korg's long history of electronic musical products while making a fashion statement of their own. Inspired by actual Korg promotional art of the 60s, 70s and 80s, the Korg Vintage T-Shirt Collection captures the retro-cool of some of the hippest, fattest synths ever. With a decidedly vintage look, each of the four limited edition designs features a specific Korg product, with artwork borrowed from logos, bumper stickers, and other original materials from the Korg archives. Available exclusively online at the Korg USA Web site, these fun-to-wear shirts will become classics themselves.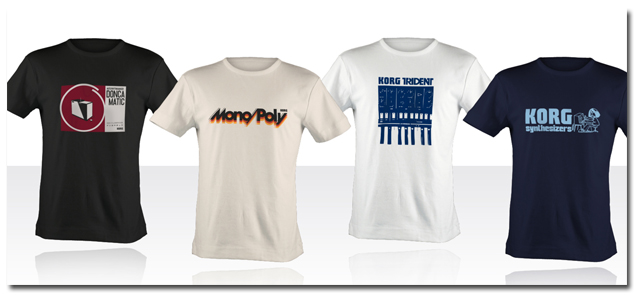 Screen printed on superior-quality, 100% cotton t-shirts with a soft, "broken-in" feel – and offered in S, M, L, XL, and XXL sizes – there are four designs available:
1. Doncamatic (T-shirt model name: KTS04)
The first ever product designed by the original Korg team back in the 60s, the Doncamatic is represented in this fine illustration from the cover of the original manual, complete with Japanese text!

2. MS-20 (KTS01)
This long-coveted patchable mono-synth has been used by cutting edge and retro artists for decades, and was the first Korg synthesizer to be re-created in software in the Korg Legacy Collection. The shirt features a 1970s Korg sticker design featuring a "way cool dude" jamming away on the legendary MS-20.

3. Trident (KTS02)
The first polyphonic and programmable synthesizer from Korg first turned heads in 1980. Since then, musicians have searched far and wide for their own vintage Trident. With additional string and brass sections, this instrument was three synths in one, hence the Trident name! Taken directly from the original owner's manual, this design captures all the fun of this VCO-, VFO- and LFO-equipped legend.

4. Mono/Poly (KTS03)
Travel back to 1982 with this old-school Mono/Poly design. This massively fat-sounding, four-oscillator lead synth is still coveted by collectors and performers today. The vintage cream-colored shirt features the Mono/Poly logo dressed up with an "era-appropriate" treatment.

Available for customers within the U.S., these limited edition collectible shirts can be purchased online at korg.com/VintageTees. Prices are $21.99 (S, M, L, XL) / $22.99 (XXL); or $79.99 for a collector's 4-pack. It would be nice if these shirts would be available in Europe as well, …. pretty soon!!!