BIAS recently released Peak Studio — an exciting new software suite for audio editing, mastering, and delivery on Mac OS X. Peak Studio includes Peak Pro 7, the latest evolution of the award-winning audio editor for the Mac, along with a complementary suite of powerful tools for mastering, restoration, streamlined analog archiving, and more.
"Peak Studio is simply the most comprehensive solution for professional audio editing, restoration, mastering, and delivery on the Mac", said Jason E. Davies, VP of Business Development for BIAS, Inc. "With the inclusion of special editions of our high-end plug-in suites at no additional charge, DDP export, and more, we've more than doubled the product's value while maintaining the same price — more bang, same buck."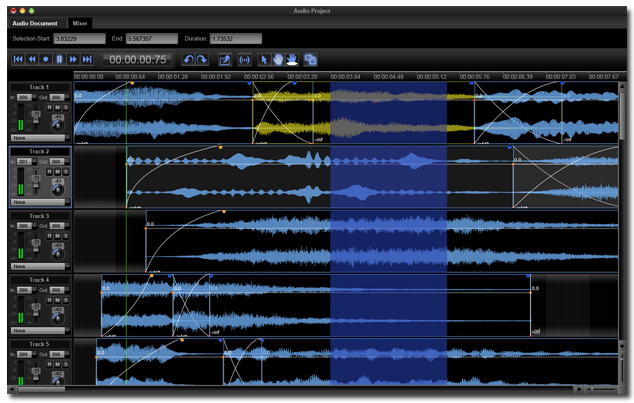 Advanced Mastering, Restoration, and More: Peak Pro 7 includes a new de-clipping tool for repairing audio files. "Clipped" recordings are corrected using advanced re-synthesis and spectral repair DSP algorithms from BIAS that produce jaw-dropping results. Peak Pro 7 also integrates editions of the highly acclaimed SoundSoap Pro 2 and Master Perfection Suite plug-ins, plus a new wide-band peak limiter. The additional signal processing tools make Peak Pro 7 the most comprehensive audio editing and processing application for Mac OS X in its class. Other enhancements include support for MP3 VBR (Variable Bit Rate) and compressed WAVE files, Japanese CD-TEXT, Pro Tools playback keyboard shortcuts, and other improvements. Unlike previous editions, Peak Pro 7 includes DDP (Disc Description Protocol) Export — providing support for this popular pre-master delivery format at no additional charge.
LP & Tape Archiving: Peak Studio also includes a new application from BIAS called SoundSaver — a powerful utility optimized for the analog archiving workflow. Whether transferring from analog tapes or vinyl LPs, SoundSaver streamlines the process and produces professional results. SoundSaver also supports the Core Audio Format
(CAF), allowing users to record beyond the traditional 2 GB file size limit of other file formats — ideal for capturing long performances, especially at higher bit depths and sample rates.
Bonus Plug-ins and Content: Also included with Peak Studio is a limited edition of the popular third-party special effects plug-in, SFX Machine LT, and XILS SE, a special edition of the virtual instrument from XILS Lab based on the architecture of a classic matrix-based modular synthesizer. Sound designers will also benefit from the inclusion of over 1 GB of high quality audio loops, samples, and sound effects from Frank Serafine, Hollywood Edge, Sound Ideas, and more.
Multi-Channel Audio Production: Customers purchasing Peak Studio as a new retail edition or upgrade from previous editions of Peak Pro will also receive a new multi-channel companion application from BIAS when available next year at no additional charge. Peak Studio's multi-channel environment features intuitive multi-track audio recording, multi-channel editing, mono/stereo/surround mixing, onboard signal processing, cross-fades featuring Bezier curves, independent volume envelopes, integration with Peak, and more.
Whether used for streamlined multi-channel editing, multi-track recording, compositing, or surround mixing, Peak Studio users will certainly appreciate the intuitive control and ergonomics in this new and powerful audio production tool.
Other Peak Studio Editions: Peak Studio XT (Extended Technology) adds editions of SoundSoap 2, SoundSoap Pro 2, and Master Perfection Suite for compatibility with most host applications that support the popular AU, VST, and RTAS/AS plug-in formats.
Availability and pricing — Peak Studio and Peak Studio XT are available now a US suggested retail price of $599 and $1199 respectively through authorized resellers worldwide and directly from BIAS. The Peak Studio upgrade is offered at a special introductory price of just $99 US for registered users of previous editions of Peak Pro and Peak Pro XT. After the introductory period, the upgrade price will be $149. All customers purchasing Peak Pro 6 and Peak Pro XT 6 since November 1st 2010 are eligible for a free upgrade to Peak Studio as a download from the BIAS web site.
The Peak Studio multi-channel production environment in planned for release in Q2 of 2011 and will be provided at no additional charge for registered users of Peak Studio and Peak Studio XT as a download from the BIAS website.