Anyone who got their taste for electronic music way back in the 80's probably knows the famous ZTT (Zang Tumb Tuum) label. If not, … shame on you! ZTT Records was founded in 1983 by NME journalist Paul Morley, record producer Trevor Horn, and businesswoman Jill Sinclair. Most famous electronic music acts on the label include The Art of Noise, Propaganda, Frankie goes to Hollywood, 808 State and many more. Early next month, London label Salvo will release The Art of the 12″, a collection of tunes from the classic imprint of ZTT.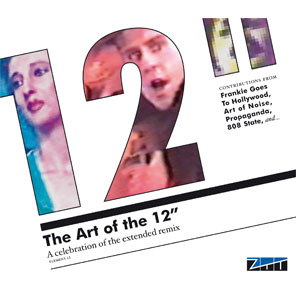 From the original house of 12" excess, Zang Tuum Tumb, Trevor Horn and his Robot Orchestra present 150 minutes of rarities, vanities and mysteries.
A year in the making, a celebration of the extended remix, for the footsteps and heartbeats of the connoisseur. Featuring the work of Propaganda, Frankie Goes to Hollywood, Art of Noise, Nasty Rox Inc., Act, Instinct, 808 State, MC Tunes, Glenn Gregory (Heaven 17), Andrew Poppy, Anne Pigalle, Art & Act and (lomax·).
Recent compilations like 12″/80s and Ministry of Sound's Electronic 80s have reissued some of the best 12″ singles of the era, many of which were products and offshoots of ZTT and Horn's infamous in-house 'THeam'. But there's one thing they're all missing: the full-on, authentic Zang Tumb Tuum 12"ers. The true Art of the 12".
This 2CD set is also peppered with a host of mini, hidden tracks. Because a remix doesn't necessarily always have to be an extended remix. Where there's high technology, there can be nanotechnology. Like the extract from a previously unreleased piano interpretation of Act's Laughter, just to give us pause for breath amidst the selection of GIANT opening tracks. Or the Bonus Bird Beats from 808 State's Pacific and various others hidden away too: the one minute Yins to the 10 minute Yang's of the spotlight tracks.
Click to the catalogue section for the full track list, and to the Zang Tuum Shop to pre-order.