Allen & Heath has released the latest version of its iLive firmware and Editor software, V1.8. The software includes support of the new xDR-16 expander hardware, MixPad app, and a range of enhancements, including a new scene safes system, additional channel and mix compressor modes, greater I/O FX capabilities, a speaker matrix rack processor, third party TCP/IP control functionality, and output socket polarity.
xDR-16 Expander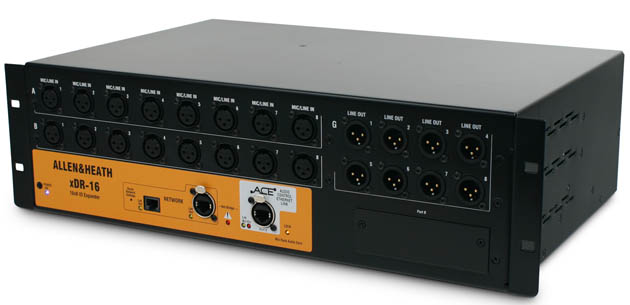 V1.8's most significant new feature is a sophisticated scene safes system, developed in response to engineers' feedback. It allows users to set up scene recall safes with any combination of channel processing, mix processing, faders, gains, mutes and DCA's. Additionally, new scene auto-increment options enable easier cue-based scene changes.
More Compressor types have been added under manual and auto modes. These include 'peak-based' manual, 'RMS-based' manual, 'Punchbag' and 'Opto' response styles. There is also a parallel path compression mode with dry feed for 'New York' compression techniques.
The acclaimed iLive FX system now has greater I/O routing capability, allowing things such as cascading FX racks, FX patching direct to outputs and patching to matrix inputs. Furthermore, each FX unit now has extended I/O functionality, allowing new I/O FX types, such as the new Speaker Matrix Processor.
The Speaker Matrix Processor FX employs a phased cross-matrix to provide a 3, 4 or 5 speaker output array from a stereo source. Mutes and delays are provided on all speaker outputs, and sub crossover filters and source selection enable comprehensive sub management.
V1.8 allows third party control over TCP/IP to enable the use of industry standard touch panels and controllers – as well as Allen & Heath's own PL series wallplates to control elements of the iLive system. The release also adds MIDI control capability to iLive Editor, allowing the connection of external MIDI controllers to the PC.
R&D Director, Rob Clark, commented:
"The features we have introduced into V1.8 are a testament to the excellent feedback we receive from our worldwide iLive customer base and valued web forum users. Furthermore, the new features improve iLive's capabilities in PA, theatre and installation applications."
iLive Firmware and Editor software are available as free downloads from www.allen-heath.com