Camel Audio is proud to announce availability of two highly- affordable additions to its 'powered by Alchemy' range of sound libraries, each allowing users to tweak the sounds using the performance controls and remix pad included in the free 'host' Alchemy Player software instrument plug-in (worth £39/€49/$59).
ARP DIMENSIONS (£39/€49/$59) is a 150-preset (with 1200 variations) library of cascading melodies; pulsating soundscapes; and head-banging, layered riffs — no static arpeggios here, with each preset incorporating extensive programming options — courtesy of the combined talents of several leading sound designers (biomechanoid, Gareth L Devlin, Andre Ettema, Himalaya, Christian Kjeldsen, Luftrum, Corin Neff, Stephan Romer, Chris Sciurba, Adam Szabo, Tasmodia, Martin Walker, and Yuroun) — to offer a seamless mini- world of evolving possibilities, broken down into the following categories for easy access: Ambient (30); Arps (14); Bass (9); Classic (35); Dance (30); Layered (18); and Percussive (14). Arp Dimensions is perfect for genres as diverse as ambient, dance, and electronica, all locked in perfect sync to track tempos; moreover, many patches have a dedicated control for switching between multiple arpeggiated patterns, so it's easy to make them fit specific music. From classic simplicity to wild note excesses, gently swelling sparseness to complex multi-layered riffs, Arp Dimensions has it all!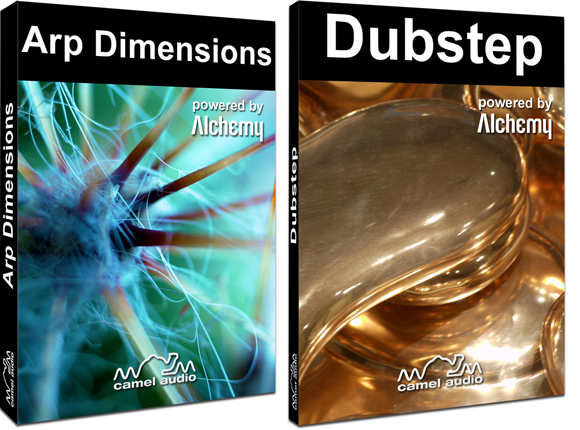 DUBSTEP (£25/€29/$35) comprises 75 (with 600 variations) wobbly basslines, twisted soundscapes, and deep sub-basses — tightly-focused and highly usable dubstep sounds all, ranging from sparse minimalism to mashed-up mayhem, with much in-between, including squelchy synths, heavyweight drum sounds, plus punchy effects — perfect for builds, drops, and transitions. Leading sound designers (Andre Ettema, biomechanoid, Gareth L Devlin, Himalaya, Christian Kjeldsen, Bryan Lee, Stephan Romer, and Yuroun) deliver over 150MB of new sampled content, including comprehensive punchy drum kits, rich new pad sounds, reverberant soundscapes, and glitchy effects, categorised as follows: Bass (5 Distorted, 6 Sweep, 4 Sub, and 25 Wobble); Drums (4); Sound Effects (11); Soundscapes (12); and Synth (8). Crank up the tempo to 140bpm and let the inspiration flow forth!
Both sound libraries can be securely ordered from Camel Audio, and directly downloaded as (larger) Alchemy Player versions or smaller-sized files (without Alchemy Player) for use with the 'full- blown' Alchemy sample manipulation plug-in (available separately for £179/€199/$249).