Algoriddim is excited to announce the immediate availability of djay for iPhone & iPod touch on the App Store. The premier DJ app now fits in your pocket!
djay for iPhone & iPod touch brings all of the major features found in djay for Mac and iPad to the palm of your hand, allowing you to DJ on-the-go, anywhere and anytime. With an all-new portrait mode, the app lets you work each turntable individually, allowing you to beat-match, adjust EQs, loop, and cue with even greater precision and control. A quick rotation of the iPhone and landscape mode allows you to control both turntables and a mixer at the same time.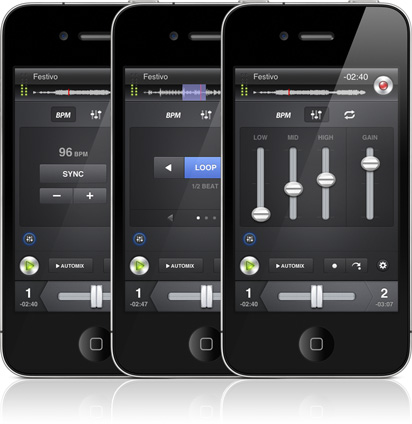 djay for iPhone & iPod touch – a complete and portable DJ system in your pocket!
Feature Highlights
Direct access to iPod library
Hyper-realistic low-latency turntable interface
Exclusive portrait and landscape modes
Automix
Automatic beat and tempo matching (BPM sync)
Looping (Auto, Manual, and Bounce)
Cue Point Trigger
Live Recording
Seamless AirPlay integration
Pre-Cueing (with optional headphone adapter)
Full visual waveform
Mixer, tempo, and EQ controls
Fully optimized for iOS multitasking and background operation
Algoriddim also released djay for iPad 1.1, a free update for all existing djay for iPad users, containing a ton of new features, improvements, and fixes! Most notably we have added looping in all flavors (auto, manual, bounce), multiple cue points, and BPM library browsing. In addition, we addressed stability and memory issues.
Here are some of the most noteworthy changes:
Auto Looping (with on-the-fly half/double)
Manual Looping (in, out, reloop)
Bounce Looping (1/16 to 2 beats)
3 additional Cue Points
BPM column in full screen library
Level meter swipe (gain adjust)
Added compatibility with Bluetooth audio devices
Extended support for AIFF and WAV files (requires iOS 4.3)
Improved library search
Fixed low memory issues
Fixed low memory related crashes
Various bug fixes and improvements
djay for iPhone & iPod touch is available for $9.99 from the App Store. For more information visit the djay for iPhone website. You can get the free iPad version update in the App Store right on your iPad or via iTunes.