The developers call it Audiogmented reality. Hear some nice streetperformance? Share some citysounds? On a party? Share a voice message with your friends on Facebook? Got something to say what doesn't fit in a tweet? Use Shoudio! Listen to other random Shoudios from people and places all over the world! Tune in to channels. Subscribe to users or channels through iTunes.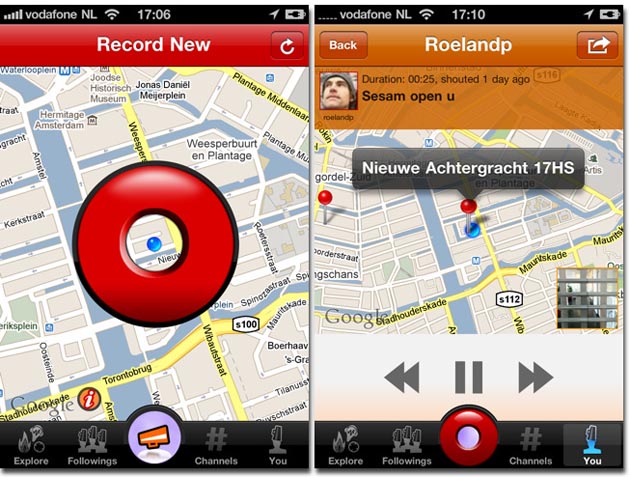 Record & Share geo-tagged audio snippets with your friends via Shoudio.com, Twitter, Facebook and Foursquare. Browse through random Shoudio's from other people all over the world. Since it's release three months ago the developers recently released version 2 of the app.
What's New in Version 2
– Listen to Shoudios: People you follow & followers, Nearby recorded, popular Shoudios and more. Explore your city through sound while moving around!
– Upload Queue: save Shoudios on your phone and upload them later. Comes in handy when you don't have a network connection.
– Add a picture to your recordings.
– Foursquare checkin support: Checkin with a Shoudio recording!
– Social: Find and follow Facebook, Twitter and Foursquare friends.
– Easy in app changing of your settings: What's your avatar?
– And ofcourse bugfixes and a fresh design.
Follow Gearjunkies on Shoudio.com: shoudio.com/user/gearjunkies