Mason! Maybe Hollands 'best kept Secret', … till now, as we are pretty much certain that they are lining up for more (musical) greatness in the future. If you'r not familiar with Mason, one of their biggest hits (to date) is Exceeder. And if that still doesn't ring a bell, you surely will know the remix/mashup with Princess, Mason vs. Princess Superstar – Perfect (Exceeder). This track went to #3 on the UK charts in 2007. This track did top the charts in other countries as well.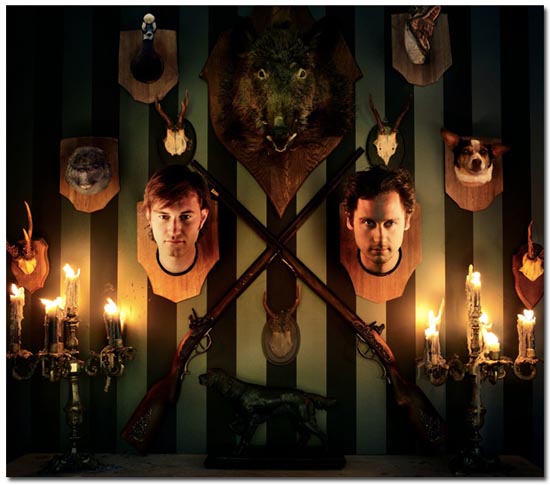 But that was then and this is now! Mason have been far from idle. Recently the guys have released their debut album 'They are Among Us'. On this album there are quite the collaborations with some big names in the industry, like Roison Murphy, Kurtis Blow, DMC, Sam Sparro, Aqualung and Sway.
Presented with the opportunity to ask Mason some questions we, off course, took it. We talked with Iason Chronis (together with Coen Berrier forming Mason) and asked him some questions on Mason, the album, their 'way of work' and their thoughts on Digital DJ'ing.
Mason, … who is mason actually?
We are a duo. Together we produce all the music, we run our Animal Language label, and recently we started playing live again. Only the dj part I (Iason) perform on my own, since Coen is not a DJ and rather has a band background. As a result, many people think it's just me, but we really do everything together. We also have a similar musical and technological background, so that works easily, plus we have the same idea about what music we want to make.
What plays the major role? The DJ'ing or the music production?
That's an impossible question. As a DJ you get all sorts of impulses which music should be made, but if you're in the studio you have that desire to play back your creations to an audience. This is such a good interaction that most dance producers perform as DJ and vice versa. If you only dj it will put a limit on how big you can grow as a DJ. Eventually you'll have to make good original music to find international attention.
You both have studied music technology. Does technology (hardware and software) play a big part in your 'way of work'?
It's all about the cook and not the kitchen. You do not need the nicest gear to create cool music. A laptop is often enough. However, it can be very inspiring to work with analog synths or any new plugin for example. When you first play with it you often get new ideas or find unexpected sounds. However analog synths is a sauce that we really like, and we keep tinkering indefinitely with our fairly analogue studio. We have to admit, there is certainly an element hobby playing a big part!
What is your standard DAW setup? Any favorite gear (hardware or software)?
We work on a Mac Pro with Logic Pro 9, with an Apogee Ensemble as an interface (allthough with our live act we use Ableton Live). We also have quite a long list of hardware that I am not going to mention all here, but we have it all connected with 24b audio and midi in/out so that if we are using Logic it does not matter whether you have a soft synth or a hardware synth selected, it's all Plug & Play. Our workload is often quite heavy, so it's nice that everything works right from the start and you don't have to check under the desk to get all the cables in the right order. Talking about favorite gear, well that's probably our homemade analog wall, but we're also big fans of Dave Smith & Sequential Circuits.
What is your view on the development of the 'Digital DJing? Beatmatching CDs will be something from the past pretty soon. Do you follow the latest developments?
With our live show we bring a whole slew of electronics with us, so we thought it would be clear with my DJ'ing I would only use CDs. A DJ who just stares at his laptop isn't sexy to see, when I go out myself for example. I think you should bring something 'extra' before you should call yourself a live act. It is much more than running ableton and occasionally throwing in some effects. But, … in the end it's just about the music, and a good DJ is someone who can bring in something interesting. Then it does not matter to me if it's with vinyl, cassette, Traktor, or CDs!
Your debut album "They Are Among Us' just came out. On the album there are a lot of collaborations with some big names. How do you get something like this started? What made this happen?
We have made a list of artists we really like and, simply put, started to contact them. Many artists loved our 'sound' so a studio appointment was made relatively quickly. We were already busy with remixes for all kinds of pop artists (like Moby, Robyn, etc.) and that surely has opened doors in the music world. The tracks on the album were created in all kind of ways: we went somewhere to work in a studio, artists coming to our studio in Amsterdam, but also by sending couplets or instrumentals over the internet and remotely creating tracks. However nothing beats to work with a vocalist, working on a track in the same room, but because of everyone's schedule that wasn't always possible.
At present, the single with Roisin Murphy is becoming a big hit. Are there more singles/releases planned from the album "They Are Among Us?
Sure, we'll release a whole bunch! We have made a song with rapper DMC (of Run) together with Sam Sparro, a track with Aqualung, Kurtis Blow, Sway, and we are currently working with bossa nova legend Marcos Valle. It's an incredibly big learning curve working with such great artists as they have so much experience in other music genres than our own. It only motivates us to work even harder!
Check out the single 'Boadicea' with Roisin Murphy at Beatport. More information on Mason is available at the Mason website.
Eric Thoolen