MFB's step-sequencer URZWERG PRO is the extended version of their URZWERG. This advanced version has been inspired by feature requests and suggestions of many users to ensure better flexibility than ever. Most prominently, URZWERG PRO now offers output of MIDI-notes and -controllers as well as 32 individual step LEDs to keep track of the sequences' status.
URZWERG PRO offers 32 steps that can either be used for two sequences with up to 16 steps each or with four sequences with up to 8 steps each. You may control up to four synthesizers or CV-controllable parameters in an analogue modular system simultaneously. Using the MIDI-output allows to address four separate synthesizers or multitimbral parts in a single synthesizer. In addition, you may play your MIDI-synth with two, three or voices polyphony. When playing it duo-phonically, the two remaining tracks can be used to control velocity and mod-wheel-data (MIDI-CC 01). Using it with three polyphonic voices, still allows for velocity control.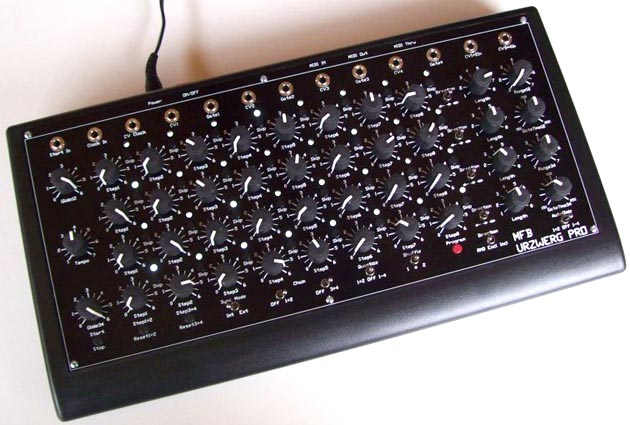 In 4 x 8 mode, URZWERG PRO can control up to four individual NANOZWERG synths using CV/Gate. As another example, you can also control and individually modulate pitch, pulse width, filter-cutoff and LFO-speed in MFB's KRAFTZWERG. Finally, using URZWERG PRO in combination with a modular synthesizer-system will allow for even more versatile options. URZWERG PRO's Gate- and CV-inputs are fully compatible to all common eurorack-format modular systems.
The use of MIDI allows similar applications as using CV/Gate connections but will add further functionality.Sounds can be played polyphonically with up to four voices. Using URZWERG PRO duo-phonically or as dual-monophonic, you can use the remaining two MIDI-controllers to output velocity and mod-wheel-data in parallel with the first two tracks. In a CV/Gate-based synthesizer, all parameters with CV-input can be addressed directly. On the contrary, MIDI-control through URZWERG PRO always also depends on the routing-options of the connected instrument.
URZWERG PRO was designed for intuitive operation. All functions feature designated controls for editing while the sequencer is running. For best overview, URZWERG PRO now features LEDs per step. These LEDs do not only visualize the sequence current position but also the skip-buttons' status. While setting the MIDI-channel and the operating modes, these LEDs also function as a display.
Within the EU, the URZWERG PRO is available for EU 480 Euro including shipping. (Prepayment by bank transfer). Non-EU-Residents countries can order the URZWERG PRO for 440 Euro (Price does not include VAT) – Prepayment by PayPal. This price includes shipping.
More information available on the MFB Website.