The SYNTHLAB uses a 100% true analog circuitry with subtractive synthesis which is designed in a classic way. This design is not new because it started in the early 70´s with the voltage controlled modular systems. The use of the low pass filter based on the transistor cascade lets the synthlab sound very similar to the well known early Moog synthesizers.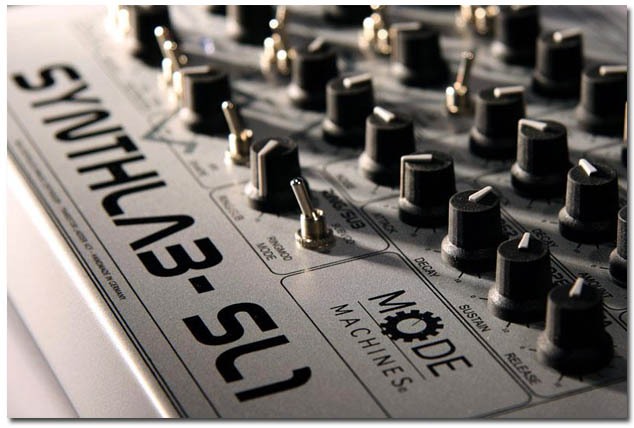 As the SYNTHLAB has a built in MIDI interface you will find it easy to integrate into any MIDI studio setup. The SYNTHLAB also has a built in MIDI-TO-CV/GATE interface which can become very handy, when using vintage equipment. The SYNTHLAB is a hand-made true discrete analogue synthesizer built in Germany. We have used components from the 70s and 80s but also modern technology. There are no DSP´s or such built in, so the sound is true, pure and very experimental like a smal synthesizer laboratory – hence the name: SL-1 SYNTHLAB.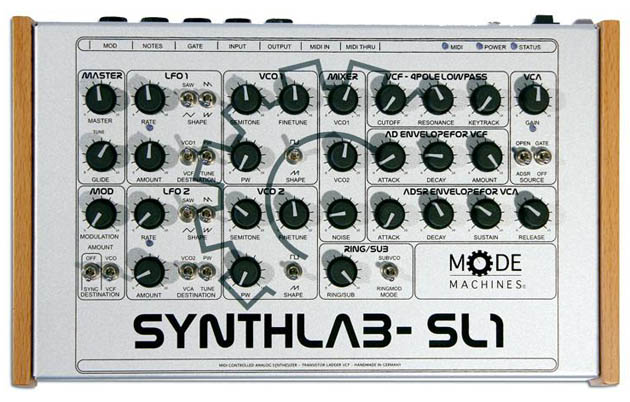 The setup of the SL-1 is very easy-to-use if you have played around with other anlogue synthesizers. Every parameter has its own pot for controlling and playing with the modulation and everything can be controlled manually in real-time. The controls of the modules are diveded into groups on the frontplate so they can be visually seperated for easier use. For basic setup you have 2 VCO´s and an external audioinput. The selected signal can be routed through the VCF and VCA before it reaches the audiooutput. For each VCF and VCA you have an own envelope generator. Additonally you have various modulation routing possibilities through the LFO´s.
Features:
2 x VCO´s ( 2 waveforms – saw & pulse)
1 x VCF (low pass filter 24dB – Moog cascade)
1 x VCA
1 x Noise
1 x Ringmodulator
1 x Suboscillator (-2 octaves)
2 x LFO (various waveforms and routings)
2 x ENV (ADSR for the VCA and AD for the VCF)
MIDI-CV-Interface with 2 x CV and GATE
Audio IN
Audio OUT
MIDI IN/THRU
External PSU included
Mode Machines Synthlab SL-1 will be present at the coming MusikMesse in Frankfurt (Hall 5.1, Booth D70).