algoriddim (www.algoriddim.com), makers of the line of djay products for Mac and iOS devices, today announced that an update to its popular djay for iPhone & iPod Touch is now available in the App Store for a limited-time deep discount of $0.99. The game-changing app brings all the popular features of the award-winning iPad and Mac releases to the screen of the iPhone and iPod touch. In addition to the realistic turntable and mixer interface on the touchscreen, the software update includes improvements to BPM functions and the iTunes library interface, as well as multilingual options.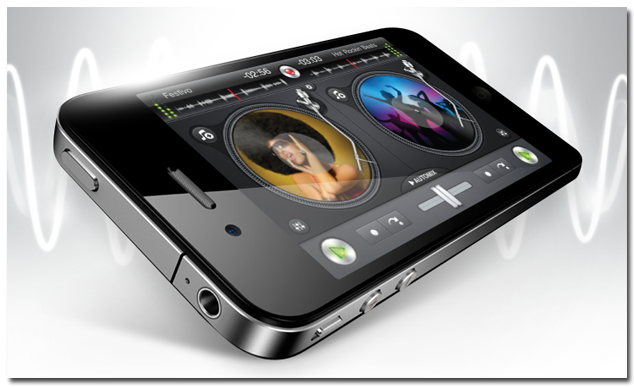 djay for iPhone & iPod touch 1.0.1 offers:
Advanced BPM Editing: Half, double, or manually tap the BPM for syncing even wider ranges of genres
Multilingual Support: Language options now include English, French, German, Italian, Japanese and Spanish
Improved Interface with iPod Library: The music library will now auto-refresh, updating newly-created playlists
Improved Audio Analysis Performance: BPM and waveform calcuation is now twice as fast, allowing to match songs even quicker
The new update further enhances the app's existing robust capabilities, including direct access to user's iTunes library and the ability to mix live or switch to Automix mode. In addition, the single-deck portrait mode lets users work each turntable individually, allowing them to beat-match, adjust EQs, loop, and cue with even greater precision and control. A quick rotation of the iPhone and landscape mode enables control of both turntables and a mixer at the same time.
"Today's enhancements for djay for iPhone & iPod touch demonstrate our commitment to delivering the absolute best music technology to the App Store," said Karim Morsy, CEO of algoriddim. "We know that everyone who tries djay is hooked by the intuitive interface with professional features that turn their iPhone into a portable DJ system. By offering the app at a discounted price, we now invite the millions of music lovers with iPhones to the rush of DJing."
Pricing & Availability
The djay for iPhone & iPod touch App is available for $0.99, for a limited time only, from the App Store at www.itunes.com/appstore. At the end of the sale promotion, the app will be available for $4.99. For more information on djay for iPad or any of algoriddim's award-winning products, please visit www.algoriddim.com.