The perfect introduction to digital mixing: based on the famous Digital Jockey series, Reloop presents two new compact controllers that do not accept a compromise when regarding quality and feeling. Clearly structured and well arranged, the DJ will know his twist – whether newbie or advanced.
The feature set is ideally laid out for Traktor LE and offers all the important features for rocking the party crowd! Two touchsensitive XXL jog wheels can be used either for scratching and pitch bending or for quick track searching. With the big transport section (play, cue, cup & sync) the track is quickly mixed and via shift function this section can also be used triggering cue points. Thanks to the precise sync feature every blend-over is perfectly beat-matched and the DJ can focus on more important things such as creative remixing. Effects such as delay, flanger or reverb can be easily selected and manipulated via a large soft-touch encoder. A designated rotary control for filter (and pan) can be used for amazing high-pass and low-pass sweeps (HPF/LPF). The loop section comes with auto loop, manual in & out buttons, and a further encoder for rapid beat looping. The high-resolution 14 bit pitch fader and the illuminated pitch bend buttons round off the player section.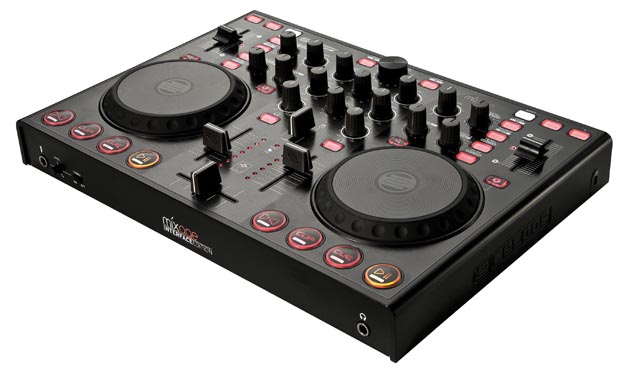 Besides 3-band equalizer and gain the classically arranged 2 channel mixer also offers an LED level meter and convenient MIDI data & power status lights. The large and handy Trax encoder makes digging in the music library and finding just the right track easy as pie. Master and headphones volume and the cue-mix function as high-performance fader are always at hand.
On the rear panel the LED backround light and the jog wheels sensitivity can be adjusted to one's own preferences. The shift lock switch is also highly practical as it is used to activate the shift function as toggle or hold mode. A further highlight is the DJ Team switch: Two Mixage controllers can be hooked up to one computer. This way one DJ team can control four decks in one software without mixing up the MIDI command (Traktor PRO required).
A pre-configured Traktor LE version is already included; easily connected via USB and selected through the Setup Wizard you are ready to mix. Of course Reloop Mixage is also compatible with any other software that is enabled for MIDI control.
Reloop Mixage can be transported easily due to the compact shape and carried effortlessly in every gig bag. This slick controller is characterized by a plain user interface; everybody will quickly get well along with it. High-quality components including sturdy metal panels and a aluminium cover plate are almost unique in this affordable price range. Save your bucks – but don't save on quality!
Those who do not possess a multi-channel soundcard should go for the Mixage Interface Edition. A professional multi-channel interface is built in this version. Easily connect your sound system and headphones for direct monitoring of the tracks. The ASIO driver architecture facilitates lowest latency and fast mixing without delay. For hosts, MCs or singers a microphone connection on the front side has been integrated. The signal can be routed directly to the master-out or to a computer for recording; the volume can also be adjusted directly.
Features:
– Professional DJ USB/MIDI controller with integrated audio interface
– Integrated 4 channel USB audio interface with 16 bit/48 kHz
– 6.3 mm microphone connection (with volume controller of its own)
– Stereo RCA outputs for the connection to the master sound system and 6.3 mm headphones connection for direct monitoring
– ASIO driver with minimum latency and best audio quality
– Clearly arranged mixer/CD player design for quick and easy access
– Optimized for the worlds leading mixing software Traktor LE
– All controllers in full size
– Altogether 54 MIDI controllers (30 buttons, 5 faders, 4 encoders, 1 push knob, 12 knobs, 2 touchsensitive jog wheels)
– All MIDI controllers freely assignable
– USB bus power: power supply also possible via USB
– Anti-theft system: Kensington safety slot
– Compatible with Mac OSX and Windows XP/Vista/7
Mixer section:
– Classic 2 channel design
– 1 x PRO Longlife crossfader
– 2 x volume controller with PRO Longlife faders
– 2 x 3 band equalizer
– 2 x gain knob
– 2 x cue button
– 2 x LED level meter
Player section:
– 2 x touchsensitive (adjustable sensitivity), two-part jog wheels for scratchingm cueing, etc.
– Large transport section fpr play, cue, cup, and sync (also useable as cue point section)
– 2 different jog modes (scratch & pitch bend, fast search)
– 2 x high resolution 14 bit pitchfader without latch position
– 2 x pitch bend buttons
– 2 x assignable encoders and 4 x buttons for effect and loop control
– Designated knobs for filter and pan effect
– Shift button for double function assignment
– Glistening white, red, and orange LED illumination
Master section:
– Cue mix, volume, and master controller
– Especially large Trax encoder for quick, easy brosing in the music library (with load buttons)
– Power and MIDI data status LEDs
Misc:
– LED dimming function
– Adjustable jog sensitivity
– Shift-lock feature
– DJ team mode: change the MIDI channel and connect 2 controllers to a computer for 4 deck control (Traktor PRO)