The Custom Shop in AmpliTube 3 brings an entirely new shopping experience for software plug-ins that is like visiting a real guitar store, one that is open 24/7 with a complete offering of legendary brands for building your truly custom tone from the comfort of your studio.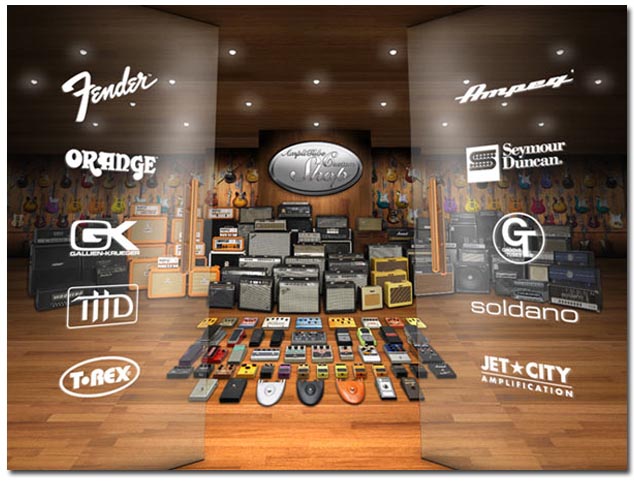 You can now build your own collection of amp and effects models with a level of customization never before seen and at prices never so affordable. You start by downloading a FREE, fully functional version of AmpliTube
3 with all features and a collection of 24 free gear models for recording and mixing in your favorite Mac/Win DAW or for playing on stage or practicing at home.
Then with the included online Custom Shop, you can try and buy à la carte stomp boxes, amplifiers, cabinets, microphones and rack effects from a vast collection of over 200 gear models including officially approved models of gear from world-class brands such as Fender, Ampeg, Orange, Soldano, Seymour Duncan, Groove Tubes, Gallien-Krueger, Jet City, THD, T-Rex and many more. Each model can be tried out for free (for a period of 2 days every 2 months) before purchase, the same way you would try out an amp in a real guitar shop. Gear models are sold in the Custom Shop using Gear Credits and are priced between 5 and 20 credits each. Gear Credits are sold in packs that start as low as $19.99 / €14.99 (for 20 credits) and go up to $299.99 / €224.99 (for 500 credits).
Features
FREE version of AmpliTube 3 with 24 models including 9 stomps, 4 amps, 5 cabs, 3 mics, 2 rack effects + tuner
More models can be added à la carte with the new online Custom Shop
Models are priced in Gear Credits ranging from 5 to 20 credits per model
Credit prices drop down to $0.60 / €0.45 per credit when credits are purchased in bulk
Includes officially authorized models of legendary guitar and bass gear brands
Fully functional version of AmpliTube 3 software with complete working feature set
Mac/Win standalone and plug-in (RTAS, VST and AU) with native compatibility for 64-bit applications and operating systems
Instant preset switching in standalone for live use
Ultra-accurate sound emulations with DSM™ and VRM™ technologies
8 double rig configurations with up to 20 chainable effects with 2 amps
Two movable mics
Preset database with online preset sharing
Full integration with IK's hardware (StealthPlug, SteathPedal, StompIO)
SpeedTrainer to slow-down/speed up backing tracks with no change in pitch
Built-in 4-track recorder in the standalone version