Alchemy 1.20 is a major update to Camel Audio's popular sample manipulation synthesiser featuring new 64-bit versions, RTAS Pro Tools support, radically improved sample playback and new skins.
Alchemy can now play back highly detailed sample libraries of acoustic instruments, as it now supports round-robin and key-switching plus unlimited keyboard zones and velocity layers. Alchemy may be the only sample player you ever need, since it can now load third-party or converted SFZ libraries, or you can select multiple WAV files and have them automatically mapped across the keyboard. When you load an SFZ file, Alchemy automatically creates eight remix pad variations using different effects and modulations.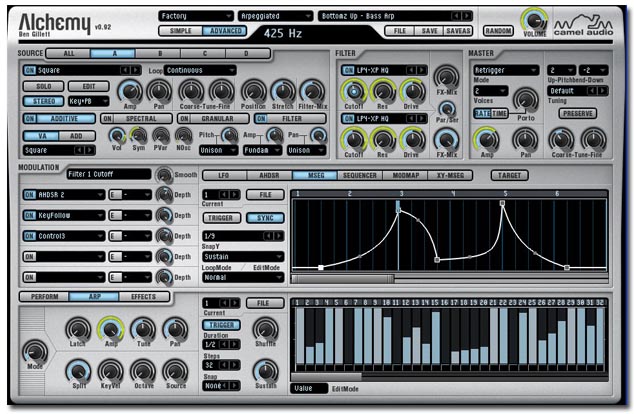 Looks haven't been ignored either, with on the fly switching of skins, a streamlined and easier-to-read face-lift for the default skin, plus a new Nightshade skin for those who find a darker look easier to work with.
This update took over two man-years to create with numerous other enhancements and bug fixes. Alchemy 1.20 is slicker, more powerful and faster than ever. This update is free to all existing users, and remains a modest £179 for new ones.
New Features in Detail
New formats – 64bit and RTAS:
– 64-bit support for Mac and Windows – access unlimited memory
– RTAS Support for Pro Tools on Mac and Windows
Enhanced Sampling and SFZ Support:
– Improved SFZ support – high quality loading of 3rd party and converted SFZs
– Key switching for fast access to articulations
– Round robin support for added realism
– Unlimited zones for velocity, round robin, key switches…
– Intelligent sample memory handling – half the sample memory required
– Multiple audio file import when holding down 'Shift' with automatic mapping to keys
– Easy SFZ loading via File -> Load
Improved GUI and New Skin:
– New 'Nightshade' skin by BitPlant
– Switch skins from the file menu
– Volume level meters for master filters and sources
– Zoom size remembered for all editors
– MSEG curves reset by double-click
Other New Features:
– Additional mod source for polyphonic aftertouch
– Improved auto-assign for performance controls
– 24 new acoustic reverb presets
– Randomise snapshots option
– Support for shortcuts or aliases to folders
– Improved MIDI program change implementation
– Easier, faster, more reliable sound library installation
– Supports new '.CamelSounds' file type for easier installation
– Improved stability and GUI handling in all hosts
– Improved Cameleon preset import
– Increased MSEG editor maximum zoom
– MSEG stretch mode now allow horizontal dragging
– Demo period increased to 4 weeks
– Effects rack now supports mouse wheel
– Reduced mouse sensitivity when editing breakpoints
– Allow use of different spectral palettes
– Save consolidated no longer copies factory samples
– User details only displayed once per instance
– Faster updating of re-mix pad and other controls
– Additive editor phase value reset on left click
– Copy to all snapshots now works for snapshot volume
– All submenus now display a check mark
– Comment lines now supported in SFZ files
Tutorial Videos:
– New 'Importing Audio' tutorial video – over 90 mins of tutorials
– Videos now embedded in relevant page of manual
User Library Additions:
– Now over 500 presets in User Library
– WAV to oscillator and LFO waveform utilities available in user library
PRICING & AVAILABILITY
Alchemy costs $249 / €199 / £179 and includes 32-bit and 64-bit VST / AU and RTAS support for Windows or Mac. Visit the Camel Audio website to listen to audio demos or buy online.