Compassion is a fully-featured dynamics processor, ready for any dynamic processing on any signal. Behind the UI lies perhaps the most flexible dynamics engine ever designed. Any channel, any task, Compassion is ready to enable you to get the job done.
Developer David Gamble: "So here's Compassion; going way beyond modelling and giving you a tool that imparts massive dynamic control. I didn't stop at compression; I kept on going through gate/expanders, upwards expansion/compression, an absurdly flexible sidechain, parallel compression, frequency-conscious and frequency-specific compression (dynamic EQ style), overcompression, the ability to SHAPE your attack/release curves, a transient shaper, a hybrid clip-limiter module, the list goes on…
So there I was with the mother of all dynamics processors, with close to 100 parameters. And then the interface design work started. After months of research into how best to present information and how to structure the UI for easy workflow, the current Compassion UI was born; based on countless hours of discussion with a board of engineers about their workflow.
I think Compassion is a pretty unique processor; being able to jump so quickly between unlistenable sonic death through to the softest most delicate processing a vocal might want within a few clicks is an overwhelmingly exciting thing to have; the Mods system saving you from needing to constantly dive in to the scores of advanced settings."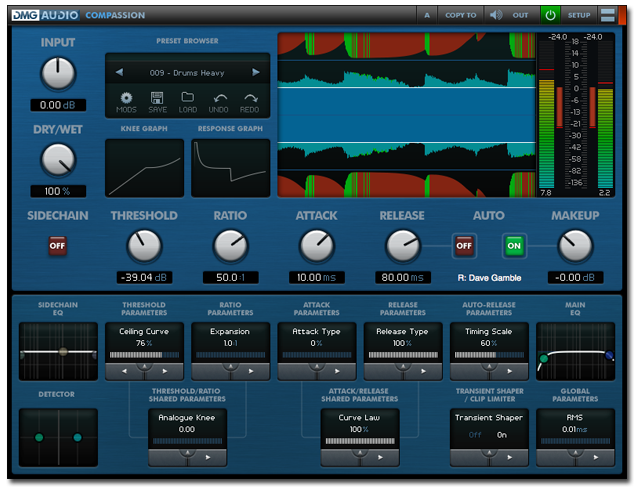 Overview
Unprecedented level of flexibility.
Multiple styles of dynamic processing available, with in-depth control.
Advanced mode for fine-tweaking, Main mode for fast usage.
Mods system for rapid configuration.
Zero latency (with lookaheads and oversampling disabled).
Low CPU usage.
Windows VST,VST3,VST 64,VST3 64,RTAS. Mac VST,VST3,VST 64,VST3 64,AU32+64bit,RTAS
Sound
Fully configurable topology; to sound like any compressor you want.
Compression, Expansion, Upward Expansion and Upward Compression
Wet/Dry for "New York"/Parallel Compression
Linear Phase Split EQ mode for "Dynamic EQ" processing
Fully configurable detectors with M/S processing
Transient Shaper and Clip Limiter modules.
Oversampling mode for alias-free operation.
Signal path and sidechain EQs
Vision
Large, intuitive waveform/gr display.
Knee and Response graphs.
Advanced mode, with pages for each section.
Sidechain and signalpath EQ graphs.
Configurable VU, supporting K-metering and variable ballistics
Mods system for fast workflow
8 banks of A/B
Full preset management system
Undo/redo
Clip LED