Another year with another MusikMesse in Frankfurt. We're back home again, and it's time for the traditional Gearjunkies MusikMesse Roundup. But before we continue, we have to say that we were confronted with lots of personal words of manufacturers about the consequences of the earthquake and tsunami of march 11th in Japan. The scale of what happened goes beyond imagination. It has affected the lives of so many people, and then it is only logical to see that it influences companies with ties to Japan, which are a lot of companies. We bear with them and wish them lots of strength in these difficult times.
Our roundup is always about choosing the coolest new gear for each of our six main gear categories. We chose these some time ago, and we're getting stuck a littlebit. Or are we? Let's start with what's new in synthesizer-world. There were some big introductions like Korg Kronos, (although not new-new, but MusikMesse-new); Roland Jupiter-80, Schmidt EightVoice (which is really big), and the Yamaha MOX6. Also more little synth gear was new, like Arturia Spark, the Korg Monotribe and the Elektrokosmos Kosmonaut. We liked the Arturia Spark for its sound. But the award in synth category must go to Roland Jupiter-80. It looks good, it sounds impressive and the specs are not just telling you what it can do, it shouts about it. Congratulations Roland!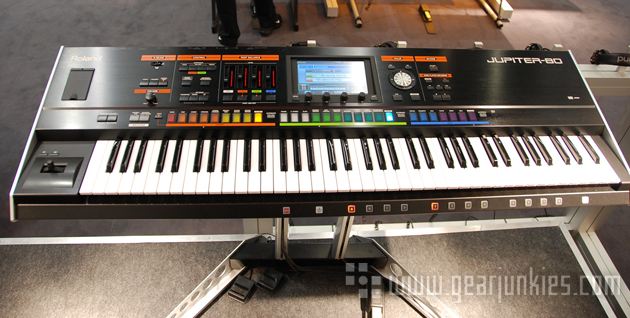 In the Studio/Pro Audio category there was plenty going on, like new monitors (KRK RP3, Akai RMP3, Event 20/BAS, SE Egg), some old school Alesis Nanoverb and compressor devices, plenty of high-end mixing consoles (Focusrite 2802, Preonus 1602, SPL Neos, SSL X-Panda) as well as some finely crafted high-end audio processing equipment from Rupert Neve. But there can only be one winner of the Studio/Pro Audio award, and that is the Sound Engineering Electronics Egg monitor speaker. Just look at it. And then think about how much effort, emotion and thought went into designing this monitor. Respect!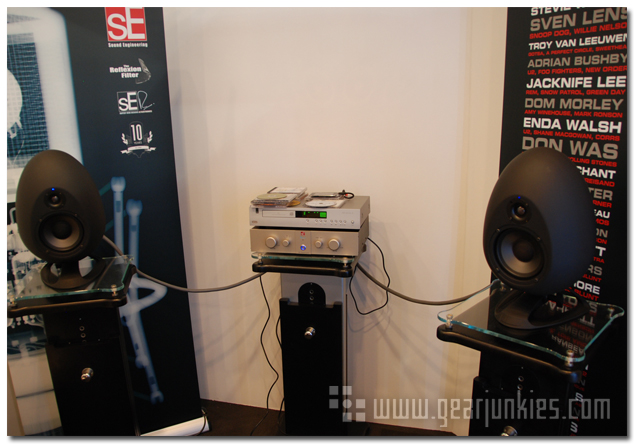 Next up, DJ-gear. The electronics-hall of MusikMesse used to be 2 floors, but a couple of years ago a trend started that moved more and more DJ-gear manufacturers to the synth-floor. This year the move was complete: all DJ-gear was on the same floor with synth- and studio equipment. This (also highly symbolical) move does mark the fact that today's DJ's have so many special tools at their disposal that they really can do live remixing and create unique tracks while performing.
The traditional news came from Numark (M8 mixer). The DJ-gear trend results into software developments. While Native Instruments themselves not on the show, many manufacturers rely on and show the new Traktor 2. Also Serato announced its new Serato Itch 2 software. On the other hand there were hardware developments to go with the software. New controllers came from Numark (MixDeckQuad), Reloop (Jockey3, a dedicated Traktor2 controller; but actually, this is NAMM-news), Pioneer (DJM-T1; a 1500 euro (you read that right) 2 channel controller/mixer). We did expect some spectacular new gear from Vestax as well, but they told us to keep our breath for their news later this year… Mentionable news came from Stanton (SCS.4DJ standalone mixer/player/controller device). Mixvibes showed a nice iPad app to remotely control Mixvibes Cross software, priced at 7.50 euro's (Wacom anybody?). But the award must go to Novation Twitch. Novation took the time to think about how to interact with digital DJ software, and came up with a bunch of small well though out improvements to how you can work with Serato Itch. Next thing, they created a 2 channel controller out of it. And they are going to sell it for anywhere between 400-500 euro's. Time will tell whether the Novation point of DJ'ing will be right, but the whole package just makes sense. Bigtime!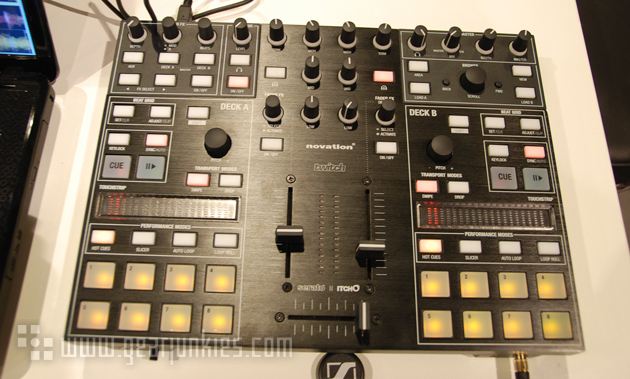 Our software category sometimes becomes a freak one, as most new products are software in some way or another. But still, there were some pure software product innovations at MusikMesse. We noticed a new Cubase Elements. Yeah. We noticed quite some interest in the Steinberg/Yamaha Vintage Plug-in Collection from our visitors as well. You think this is the coolest software news? Let us know (Twitter!). Steinberg was on a roll, as they also introduced HALion 4. We looked at the features. And we thought, yeah, this is something that stands out. As such, that makes it our software category winner!
Onwards to the Soundcard and MIDI categories. These used to be so meaningful, but times are changing. Today's soundcard innovation revolves around either iPad/iOS-audio interfaces (like the Apogee Jam), traditional USB interfaces with a twist (like Roland's new Quad Capture or Alva Nanoface, Akai EIE I/O) or high-end audio technologies like the Focusrite Dante's RedNet concept. Since Yamaha tried to achieve a big step forwards with digital audio processing/routing by introducing mLan, RedNet looks like it is taking off from there. We still have to wait, as gear will actually become available later this year, but it sounds promising (128 in/out channels sounds sweet!). Focusrite Rednet is our Soundcard winner.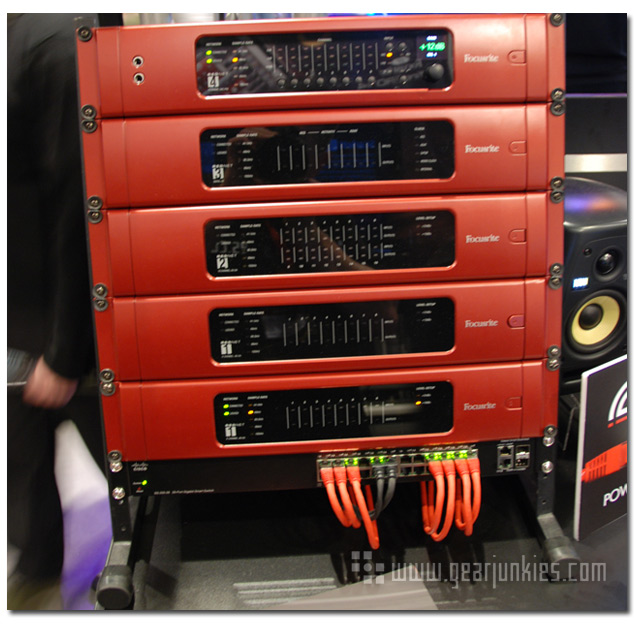 With respect to our MIDI category, we also think it is time to see where we are coming from. On the MusikMesse show there was a booth from Klavis Technologies, who have been developing CopperLan. What CopperLan technology does, is transfer traditional MIDI over ethernet. Apart from just changing the cable, they also created
a protocol stack that allows for super flexible filtering, routing and working with MIDI message that actually takes MIDI to new levels. It does require CopperLan endpoints though, but it is easily integrated, as shown by manufacturers from the Analog Superbooth as well as the guys from Feeltune, who integrated CopperLan into their Rhizome. We plan to go in depth with CopperLan, so stay tuned for more. It is out MIDI category winner. CopperLan, congratulations!
Thanks to everybody who made our Gearjunkies MusikMesse trip a joy! (and yes, that includes the people behind the Frankfurt's bars as well!). Until next year! And if you don't agree, just submit your comments with this post. Or tweet about it.